Back to top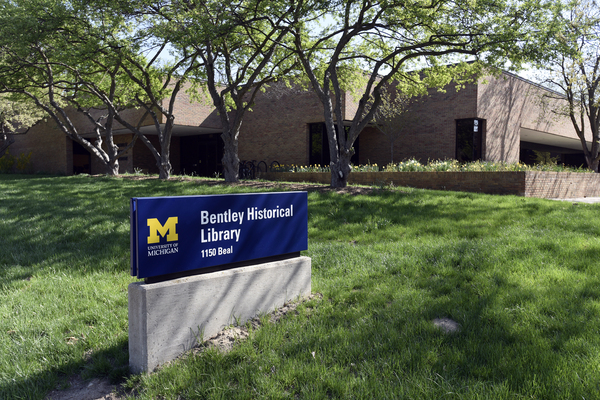 Address

:

1150 Beal Avenue

Ann Arbor, MI 48109-2113, USA
James B. Griffin papers, 1922-1997
Using These Materials
---
Restrictions:

The papers are open without restriction. In 2013 select materials were returned to the University Michigan Museum of Anthropology. This includes part or all of boxes 83, 84 and 86-93. These...
Summary
Creator:

Abstract:

James Bennett Griffin was one of the major forces in the development of North American archaeology and served as the director of the Museum of Anthropology at the University of Michigan from 1946 to 1975. The papers contain correspondence, extensive research and photograph files on North American archaeological sites, cultures and artifacts, and information on Griffin's writing, professional activities, and teaching within the University of Michigan Department of Anthropology.

Extent:

216 linear feet
1 oversize volume

Language:

English.

Call Number:

0313 Aa 2

Authors:

Finding aid prepared by: Christine Di Bella, 2003
Background
Scope and Content:

The James B. Griffin Papers are a rich source of information about Griffin's life, the history of the Museum of Anthropology at the University of Michigan, archaeological sites and topics, particularly in North America, and the overall development of the field of North American archaeology from the 1930s to the 1990s. The papers consist of 16 series: Biographical and Personal; Student Years; Correspondence, 1930-1975; Correspondence, 1975-1997; Radiocarbon Laboratory; Teaching and Advising; Conferences and Symposia; Professional Associations and Affiliations; Speaking Engagements; Travel and International Initiatives; Writings and Publications; Hopewell; Topical Files; Archaeological Sites and Projects; North American Archaeology Card Files; and Photographs.

Biographical / Historical:

James ("Jimmy") Bennett Griffin was one of the major forces in the development of North American archaeology. In his long, productive, and highly distinguished career spanning nearly seven decades, he played a pivotal role in transforming American archaeology into a fully scientific discipline.

James B. Griffin was born in Atchison, Kansas on January 12, 1905. His father's occupation as a railroad man moved his family from Kansas to Denver to Oak Park, Illinois during Griffin's childhood. Griffin entered the University of Chicago in 1923 for undergraduate study. He initially pursued a course in business administration, then law, but eventually settled on a social science major. His studies exposed him to introductory anthropology and ethnology courses, including one taught by Fay-Cooper Cole, and engendered a lifelong fascination with human origins and cultural development.

Griffin received his bachelor's degree from Chicago in 1927, but with his father ill and his family in need of financial support, he decided to enter a training program to become a junior executive for Standard Oil of Indiana. He manned service stations in the Chicago area for about a year and a half, but quickly lost interest in a career in business. In 1928, Griffin abandoned business permanently and returned to the University of Chicago to pursue a master's degree in anthropology under Cole. While in the master's program, Griffin took courses and participated in his first archaeological fieldwork through excavations at various sites in Illinois, deciding that archaeology rather than other areas of anthropology was his particular area of interest and would serve as the basis for his further study.

Griffin received his master's degree in 1930, then was hired in the summer of 1931 to direct excavations at Athens, Pennsylvania for the Tioga Point Museum under a grant from the National Research Council. He planned to return to Pennsylvania the following year to excavate near Wilkes-Barre, but funding for the project was canceled. In late 1932, Cole put Griffin forward for a fellowship in Aboriginal North American Ceramics administered by the Museum of Anthropology at the University of Michigan with financial support from philanthropist Eli Lilly. The museum's director, Carl Guthe, selected Griffin for the fellowship and he began his pursuit of a doctoral degree in anthropology at Michigan in 1933. Griffin would spend the next fifty years at the university in one role or another.

Griffin's fellowship and work with the Ceramic Repository of the Eastern United States formed the basis for his Ph.D. thesis (completed in 1936) and many of his early publications. The most significant of these was The Fort Ancient Aspect, published by the University of Michigan Press in 1943. Griffin also served as the editor for the important survey publication, Archaeology of Eastern United States (University of Chicago Press, 1952), a festschrift for his mentor, Fay-Cooper Cole.

Griffin worked his way up through the ranks of the Museum of Anthropology, progressing from Research Associate to Assistant Curator to Associate Curator to Curator from 1936 to 1945. In late 1943 Carl Guthe resigned as director of the museum and recommended that Griffin be appointed as his successor. Administrative conflicts stalled the appointment for several years, but he was finally approved by the Regents as the museum's director in 1946. Griffin held this position until his retirement in 1975.

In addition to his work at the museum, Griffin was also very active in the university's Department of Anthropology. He was named Associate Professor in 1945 and promoted to Professor in 1949. He chaired the dissertation committees for more than 40 doctoral students and was an active teacher and advisor. He also served as the department's chair from 1972 to 1975.

Griffin participated in many important initiatives outside the University of Michigan. From 1940 to 1946 (with a break during the war years), Griffin, along with James Ford of Louisiana State and Philip Phillips of Harvard, organized and led the Lower Mississippi Valley Survey. The survey marked one of the first instances of significant inter-institutional cooperation in North American archaeology. Griffin continued his work in the area with the Central Mississippi Valley Archaeological Survey (C.M.V.A.S.), the Cahokia excavations, and the FAI-270 Archaeological Mitigation project.

Griffin was not primarily a field archaeologist, however. His passion and expertise lay in making connections and surmising relationships between different artifacts, geographic areas, sites, and cultures. He was known for his piercing intellect, encyclopedic memory and vast knowledge of the prehistory of North America, externalized in his extensive index cards and pictorial files of ceramics and artifacts. He visited sites throughout the country to collect information and was widely consulted by professional and amateur archaeologists on an array of topics. Throughout his career, Griffin published his own work prolifically, and often reviewed the work of others.

While his primary interest lay in the archaeology of North America, Griffin had many other interests. He traveled extensively, including a year-long study tour of Western Europe from 1953 to 1954 and a research trip to Soviet Russia in 1961, and was involved in initiating some of the earliest field projects for American graduate students behind the "Iron Curtain" in Poland and the former Yugoslavia. Griffin also participated in many regional, national, and international professional organizations, including terms on the leadership boards of the Society for American Archaeology (SAA), the International Union of Prehistoric and Protohistoric Sciences (IUPPS), the American Anthropological Association (AAA), and the Council on Michigan Archaeology (COMA), among others.

Griffin was a pioneer in the development and use of several tools for the scientific analysis of archaeological specimens. Along with H.R. Crane of the university's Department of Physics, Griffin founded and provided oversight for the Radiocarbon Laboratory, in operation at Michigan from 1949 to 1970. The Radiocarbon Laboratory and its program of C-14 dating of specimens was the second of its kind in the United States. In the 1960s, Griffin collaborated with Michigan chemist Adon Gordus in the use of neutron activation analysis for sourcing obsidian, one of the most important analytical tools available to archaeologists for the study of prehistoric exchange. Griffin was elected to the National Academy of Sciences in 1968 for his innovative scientific work.

After Griffin retired in 1975, he spent a number of years in Ann Arbor as a Research Scientist of the Museum of Anthropology. He then moved to Washington, D.C. in 1984 to serve as a Research Associate of the Smithsonian Institution. He continued to be active in the field of archaeology almost to the very end of his life, attending professional conferences, contributing to publications, and serving as an official or unofficial advisor to scores of younger archaeologists.

Griffin married Ruby Fletcher on February 14, 1936. They were married for over forty years, until her death in 1979. Together they had three sons, John, David, and James. Griffin met his second wife, Mary Marsh DeWitt, while living in Washington. They were together for twelve years, until his death on May 31, 1997, at age 92.

(In addition to the wealth of biographical information that can be found in these papers, there are a number of published biographical resources for James B. Griffin. These include memorials and obituaries published after his death (including "James Bennett Griffin, 1905-97" by Richard I. Ford, published in American Anthropologist in 2002), his entries in reference publications such as Who's Who and the International Directory of Anthropologists, and Griffin's autobiographical essay "An Individual's Participation in American Archaeology, 1928-1985," published in the Annual Review of Anthropology in 1985.)

Acquisition Information:

The papers (donor no. 9273 ) were transferred to the Bentley Historical Library in 2002.

Arrangement:

Summary Contents List

Biographical and Personal -- Box 1
Student Years -- Box 2
Correspondence, 1930-1975 -- Boxes 3-27
Correspondence, 1975-1997 -- Boxes 28-33
Radiocarbon Laboratory

Correspondence -- Boxes 34-36
Datasheet Notebooks -- Boxes 36-37
Lab Administration -- Box 37
Research -- Box 37
Card Files -- Boxes 38-48

Teaching and Advising

Advising -- Box 49
Courses -- Boxes 49-50
Background Material -- Boxes 50-51
Visiting Teaching Positions -- Boxes 51-52

Conferences and Symposia

Professional Organizations and Recurring Conferences -- Boxes 52-58
One-Time Meetings -- Boxes 58-62

Professional Associations and Affiliations -- Boxes 62-65
Speaking Engagements -- Box 65
Travel and International Initiatives -- Boxes 65-66
Writings and Publications

By Griffin -- Boxes 66-73
By Others -- Boxes 73-80

Hopewell -- Boxes 81-82
Topical Files

Archaeological Subject Files -- Boxes 82-83
Ceramic Research -- Boxes 83-84
Consulting -- Boxes 84-85
Grant Proposals and Projects -- Boxes 85-86
Neutron Activation Analysis -- Box 86
Program Reviews and Evaluations -- Boxes 86-87
University of Michigan -- Box 87

Archaeological Sites and Projects -- Boxes 88-93
North American Archaeology Card Files

Geographic Areas and Cultures -- Boxes 94-195
Miscellaneous -- Boxes 196-200
Large Mounted Photographs -- Boxes 201-212
Mississippi Valley Aerial Photographs -- Boxes 213-215

Photographs -- Box 216
Contents
Using These Materials
---
RESTRICTIONS:

The papers are open without restriction.

In 2013 select materials were returned to the University Michigan Museum of Anthropology. This includes part or all of boxes 83, 84 and 86-93. These files are available for use at the Museum of Anthropology.

USE & PERMISSIONS:

Copyright is held by the Regents of the University of Michigan but the collection may contain third-party materials for which copyright is not held. Patrons are responsible for determining the appropriate use or reuse of materials.
PREFERRED CITATION:

item, folder title, box no., James B. Griffin Papers, Bentley Historical Library, University of Michigan