Back to top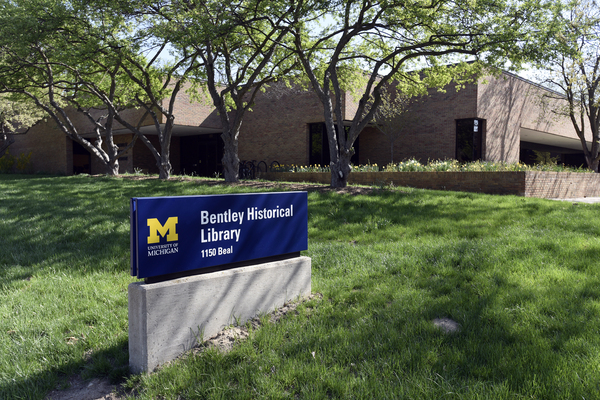 Address

:

1150 Beal Avenue

Ann Arbor, MI 48109-2113, USA
Office of Student Conflict Resolution (University of Michigan) records, 1962-2006
Using These Materials
---
Restrictions:

The Office of Student Conflict Resolution records are open for research except for certain records restricted by statute or university policy. Restricted material includes personnel-related files,...
Summary
Creator:

Abstract:

University of Michigan unit responsible for administering the Code of Student Conduct, regulating non-academic rights and responsibilities of students; unit also adjudicates violations and trains individuals for service on arbitration panels. Records relating to the creation of standards for student behavior, including background on earlier codes for student conduct and statement of student rights and responsibilities. Includes policy documents, reports, surveys, and review material as well as evaluations and reactions to the code.

Extent:

7 linear feet

Language:

English

Call Number:

03114 Bimu 2

Authors:

Finding aid created by Michelle Sweetser, July 2002. Emily Sanford, October 2008.
Background
Scope and Content:

The Office of Student Conflict Resolution (OSCR) records include materials related to the creation of standards for student behavior at the University of Michigan. These records include minutes from groups assigned to create standards of conduct; drafts and final policies implemented by the university; correspondence between campus administrators, legal counsel, and students and staff; formal evaluative reports on policies and their effectiveness; and original forms from students and staff telling administrators of their opinions on various issues related to standards of conduct.

A second accession was received from the Office of Student Conflict Resolution (OSCR) in August of 2008 and added 5.0 linear feet to the record group. The scope of the new records consists mostly of printed and produced materials including guidelines, worksheets, newspaper clippings, training materials, and reviews. The material also touches on the Code of Student Conduct including reviews, completed student and faculty surveys, and newspaper clippings of articles about the Code.

The OSCR records (7.0 linear feet) date from 1962 to 2006 and are organized into eleven series: Background Material; University Code for Non-Academic Conduct and University Judicial System; Policy on Discrimination and Discriminatory Harassment; Statement of Student Rights and Responsibilities (SSRR); Code of Student Conduct; Guidelines, Worksheets, and Forms; Training Manuals; Pubic Relations; Reviews and Reports; Surveys; and Publications.

Biographical / Historical:

The Office of Student Conflict Resolution (OSCR) is a division of student affairs that administers the Code of Student Conduct (Code). The OSCR investigates and adjudicates violations of the Code, training students, faculty and staff as members of the arbitration panel.

The Code of Student Conduct is the University of Michigan policy detailing the non-academic rights and responsibilities of its students, the most recent in a succession of attempts to establish a policy for student behavior.

In 1970 the Board of Regents approved Bylaw 7.02, delegating to the University Council the responsibility for formulating and proposing regulations for student conduct. Any code created by the University Council was subject to approval by the Regents, the Michigan Student Assembly, and the Senate Assembly.

In March 1973, the Board of Regents adopted the Rules of the University Community, which were to be enforced by a pre-established university judicial system. This judicial system was revised at the October 1979 Regents meeting; however, the rules and judicial system were never employed due to inadequate procedures and a cumbersome amendment process.

By June 1982, the university executive officers charged the University Council, under the authority of Bylaw 7.02, to develop a new set of rules and procedures. The Council over the next six years attempted to develop a new process, but was unsuccessful in adopting such a policy. In response, the Regents, at a 1988 meeting, passed a resolution by which Bylaw 7.02 would automatically expire at the end of May 1989, unless the University Council recommended and the Regents adopted amendments to Bylaw 7.02 that would allow it to function effectively in making recommendations to the Regents. In May 1989 the Regents extended the sunset on Bylaw 7.02 to December 31, 1989. As no amendments had been adopted by December 31, 1989, Bylaw 7.02 expired.

While the University Council struggled to develop a university judicial system, the Regents adopted in April 1988 the Policy on Discrimination and Discriminatory Harassment in the University Environment (the "Policy"). The Policy was intended to provide a mechanism for addressing incidents of sexual harassment, racial harassment and other types of discriminatory harassment by students that interfered with the university's educational mission. The Policy went into effect on May 1, 1988, implemented and administered by the Office of the Vice President for Student Services (later renamed Vice President for Student Affairs) with substantial assistance from the Affirmative Action Office and the Office of the General Counsel.

On May 25, 1989, a lawsuit filed against the university in U.S. District Court sought to overturn the Policy on grounds that it violated the first amendment of the U.S. Constitution. On August 25, 1989, the Court struck down portions of the Policy as unconstitutional, particular those portions related to verbal behavior and verbal conduct. As a result, President Duderstadt, with the assistance of the General Counsel developed and enacted an interim policy to address matters of discriminatory harassment, to remain in effect until a more comprehensive policy could be written in accordance with the court ruling.

It was 1992 before the Office of the Vice President for Student Affairs began working to draft a new policy establishing a set of rights and responsibilities for students, including procedures for hearing violations of the Policy. Two pieces of federal legislation helped precipitate the process - the Drug Free Schools and Colleges Act of 1990, and the Higher Education Amendments of 1992. These policies required an on-campus policy and hearing procedure for violations of alcohol and other drug laws and for sexual assault and rape, respectively. The end result, the Statement of Student Rights and Responsibilities (SSRR), was adopted on an interim basis, taking effect on January 1, 1993, and was administered by the Vice President for Student Affairs, Maureen Hartford.

In April 1995, the Board of Regents mandated that the Vice President for Student Affairs, Maureen Hartford, write a new code that was to be a "statement of shared values" and a "process to facilitate the resolution of differences." The Code of Student Conduct, written during the summer and fall of 1995, with input from the campus community, was submitted to the Regents and approved in November 1995, taking effect on January 1, 1996, replacing the interim SSRR policy. Nomenclature is still unclear at times - some offices on campus presently refer to the Code of Student Conduct as the SSRR.

During the summer and fall of 1998, a Code Implementation Review Committee conducted an internal assessment of the Code of Student Conduct and the Office of Student Conflict Resolution; an external review was also conducted at that time. Maureen Hartford officially presented the Code report to the Regents at their February 1999 meeting; at the same meeting, the Regents approved an amendment to the Code of Student Conduct, giving the university president the final say in code changes (the right had been previously held by the Board of Regents).

Additional information about the development of standards for student behavior is available in the Vice President of Student Affairs record group; further information about the Office of Student Conflict Resolution is available as of 2008 at the following URL: http://www.oscr.umich.edu/

| Date | Event |
| --- | --- |
| June 1966 | Knauss Committee Report (Ad Hoc Committee on Student Participation in University Affairs). |
| October 1, 1966 | Voice (U-M SDS chapter) sit-in in Vice President Pierpont's office, protesting presence of plainclothes police officers at university events and lack of student voice in university decisions. |
| October 21, 1966 | Regents pass resolution giving Vice President for Student Affairs complete authority for non-academic conduct of students. Student advisory boards are authorized for each executive officer. |
| November 12, 1966 | Vice President Cutler banned sit-ins that "interfere with the normal and orderly operation of the University." |
| November 15, 1966 | Student Government Council (SGC) noting lack of consultation, issues statement saying in part: "SGC has asked that the rule (of November 12) be suspended until a joint consideration of the needs of this area can be made by faculty, students and administration." |
| November 16, 1966 | SGC referendum on compilation of class rankings for Selective Service. Vote: 6,389-3,518 in opposition to compilation rankings. |
| November 17, 1966 | SGC passes motion: "... that the SGC suspend its formal association with the Office of Student Affairs in order to best act as a representative of the student body." |
| November 21, 1966 | SGC Teach-In on student participation at Hill Auditorium attracts approximately 3,000 students. Teach-In demands lifting of sit-in ban and acceptance of student vote on class ranking as binding. |
| November 28, 1966 | Hatcher, in a speech before the Faculty Senate, announces Presidential Commission composed of students, faculty, and administrators to consider student government and "rightful role of students in decision-making at all levels." Hatcher also announces review committees on disruption and Selective Service ranking. Hatcher states that the Vice President for Student Affairs will "delay the implementation" of the sit-in ban, pending review. |
| November 30, 1966 | Approximately 1,500 students hold sit-in at the old Administration Building protesting failure of the administration to accept demands made at the November 21 teach-in. Sit-in was brief and orderly. |
| February 1, 1967 | Members of Commission on the Role of Students in Decision-Making appointed by President Hatcher. |
| September 14, 1967 | SGC adopts "Regulations Concerning Student Conduct": 1) "Individual or mass acts that destroy University property or significantly interfere with the free movement of persons or things on the campus are prohibited. 2) Intentional disruption of University functions by depriving others of needed quiet, light, heat, or other physical conditions of work, is prohibited." |
| November 17, 1967 | Regents declare that "without Regental approval such legislation is totally without effect," implying that September 14 regulations are void and Vice President had the authority to set rules under the Regents' action of October 21, 1966. |
| January 1968 | President Robben Fleming takes office. |
| March 13, 1968 | President's Commission on the Role of Students in Decision-Making submitted report to President Fleming. |
| April 1968 | Regents accept President's Commission report and ask for preparation of specific bylaws based on the report. Also ask President Fleming to obtain views of SGC and Senate Assembly. |
| May 1968 | President Fleming establishes Ad Hoc Committee to Draft Regental Bylaws, with students, faculty, and administration. |
| June 27, 1968 | Senate Advisory Committee on University Affairs (SACUA) sent letter to President Fleming endorsing SGC "Regulations Concerning Student Conduct" of September 14, 1967, as well-suited for interim rules on disruptive episodes. |
| July 1968 | Regents rescinded October 21, 1966 resolution giving Vice President for Student Affairs authority over non-academic conduct, saying sufficient rules exist in colleges and Regental bylaws. |
| November 1968 | SGC changes constitution of the student judiciary, including a change in the name to Central Student Judiciary. |
| March 1969 | SGC adopts new constitution for SGC and Central Student Judiciary (CSJ). SGC constitution includes a student Bill of Rights. CSJ manual of procedure adopted. |
| June 2, 1969 | Ad Hoc Committee to Draft Regental Bylaws submits its report to President Fleming. |
| August 7, 1969 | Revision of proposed bylaws submitted to President Fleming jointly by SGC and SACUA, noting areas of disagreement exist. |
| September 19, 1969 | Regents' meeting, which includes discussion of bylaws on agenda, entered by 250 students protesting bookstore plan approved by the Regents and demand student control of the bookstore. |
| September 26, 1969 | Occupation of LS&A Building led by SGC demanding student control of proposed bookstore. 107 arrests made. |
| November 19, 1969 | Regents approve draft of bylaws 7.01 (Committee on Communications) and 7.02 (University Council). |
| January 16, 1970 | Regents approve draft of bylaws 7.03 (Office of Student Services), 7.04 (Vice President for Student Services), 7.05 (Student Participation in Decision-Making), 7.08 (Student governments), and 7.09 (Central Student Government). |
| February 12, 1970 | Bylaws 7.01 (Committee on Communications) and 7.02 (University Council) submitted to Regents as revised by SACUA, SGC, and administration, noting SGC disagreement on 7.02. Regents charge the University Council to formulate a code of conduct for the university community. |
| March 1973 | Rules of the University Community enacted by the Regents. |
| October 21, 1977 | Regents approve a statement on Freedom of Speech and Artistic Expression, developed by the University's Civil Liberties Board. |
| October 1979 | Board of Regents revised the judicial system employed to adjudicate the Rules of the University Community. |
| June 1982 | Board of Regents approve a University Policy Against Hazing. |
| June 14, 1982 | University officials charge University Council to review, evaluate and propose changes in university's mechanisms for dealing with student non-academic misconduct; by the end of fall term 1982. |
| 1983 | University Council proposes that Bylaw 7.02 be revised to remove the ratification powers of the student and faculty assemblies. |
| March 1984 | Students overwhelmingly vote against a code of non-academic conduct in Michigan Student Assembly elections. |
| September 1986 | SACUA adopts a statement concerning appropriate behavior between faculty and students - Gender and Respect in the University Community. |
| March 1988 | Regents adopt the Policy on Discrimination and Discriminatory Harassment in the University Environment ("the Policy") to address incidents of sexual, racial and discriminatory harassment. |
| May 1, 1988 | Policy on Discrimination and Discriminatory Harassment in the University Environment goes into effect, overseen by the Office of the Vice President for Student Services, to run until January 1990. |
| July 1988 | Regents pass a resolution for the expiration of Bylaw 7.02 at the end of May 1989, unless the University Council recommends amendments to Bylaw 7.02 allowing for more effective function. |
| May 25, 1989 | Lawsuit filed against the university in U.S. District Court, seeking to temporarily and permanently enjoin enforcement of the Policy. |
| May 1989 | Regents extended the sunset on Bylaw 7.02 to December 31, 1989. |
| August 25, 1989 | U.S. District Court strikes down parts of the Policy on Discrimination and Discriminatory Harassment as unconstitutional. |
| September 15, 1989 | President Duderstadt presents to Regents proposed interim policy to address matters of discriminatory harassment, covering racial or sexual slurs directed at individuals (the original policy covered epithets aimed at groups). Regents are unable to vote on the policy pending release of U.S. District Court's detailed opinion; Duderstadt invokes Regental Bylaw 2.01, giving President power to make university policy without Regental approval. |
| December 31, 1989 | Bylaw 7.02 expires, as no amendments had been adopted. |
| Early 1992 | Students and administrators begin discussion of abandoning the interim policy and adopting a plan to address physical intimidation. |
| Summer 1992 | Draft 10.2 of the Statement of Student Rights and Responsibilities (SSRR) sent to all students for feedback. |
| Fall 1992 | Public forums held by the Office of the Vice President of Student Affairs to collect student input on the Code. |
| November 20, 1992 | Vice President of Student Affairs Hartford proposes draft 13.0 to Regents. Regents approve the policy on interim basis. |
| January 1, 1993 | SSRR implemented by the Office of Student Affairs. |
| February 1994 | Regents extend the interim status of the Statement of Student Rights and Responsibilities until April 1995. |
| March 26, 1995 | Students against the Code formed. |
| April 20, 1995 | Regents discuss Statement of Student Rights and Responsibilities. Rally by Students against the Code attracts 200-300 students. Rally moves to Regents' Plaza; students occupy Administration Building lobby until permitted to enter closed Regents' meeting. |
| April 21, 1995 | Regents, in a motion sponsored by Regent McGowan, instruct VPSA to write a new Code. They charge her to get input from the MSA president, SRC chair, and chair of the Student Civil Liberties Watch. The SSRR remains an interim, unamended policy. |
| May 23, 1995 | First meeting of the Code workgroup in Office of Judicial Affairs. |
| June 23, 1995 | Regents approve a student representative to the Board of Regents. |
| November 16, 1995 | Regents approve the Code of Student Conduct. |
| January 1, 1996 | Code of Student Conduct takes effect, replacing the interim SSRR. |
| Summer/Fall 1998 | Code Implementation Review Committee conducts assessment of the Code of Student Conduct and Office of Student Conflict Resolution. |
| February 18, 1999 | Regents approve amendment to the Code of Student Conduct, giving President final say in Code changes (the right had been held by the Board). Report of Code assessment also presented. |

Acquisition Information:

The record group (donor no. 9113 ) was received from the unit in June 2001 and March 2002. An addition was received in August 2008.

Accruals:

Periodic additions to the records expected.

Rules or Conventions:

Finding aid prepared using Describing Archives: A Content Standard (DACS)
Contents
Using These Materials
---
RESTRICTIONS:

The Office of Student Conflict Resolution records are open for research except for certain records restricted by statute or university policy. Restricted material includes personnel-related files, including search, review, promotion, and tenure files; student educational records; client/patient records; and records of executive officers of the university.

The Office of Student Conflict Resolution record group includes restricted material in the following categories:

Patient/Client Records -- Boxes 1 and 2. Restricted files removed to vault storage.

Access Restrictions for University of Michigan Records

University records are public records and once fully processed are generally open to research use. Records that contain personally identifiable information will be restricted in order to protect individual privacy. Certain administrative records are restricted in accordance with university policy as outlined below. The restriction of university records is subject to compliance with applicable laws, including the Michigan Freedom of Information Act.

Categories of Restricted Records

Patient/client records are restricted for one-hundred (100) years from the date of their creation. The terms of use for particular records older than 100 years may require the research to sign a Patient/Client Access Agreement.

Restricted files are indicated in the contents list of the collection's finding aid with a restriction note indicating the restriction type and the date of expiration.

For further information on the restriction policy and placing Freedom of Information Act requests for restricted material, consult the reference archivist at the Bentley Historical Library (bentley.ref@umich.edu) or the University of Michigan Freedom of Information Office website (https://foia.vpcomm.umich.edu/).

USE & PERMISSIONS:

Copyright is held by the Regents of the University of Michigan but the collection may contain third-party materials for which copyright is not held. Patrons are responsible for determining the appropriate use or reuse of materials.
PREFERRED CITATION:

[item], folder, box, Office of Student Conflict Resolution (University of Michigan) records, Bentley Historical Library, University of Michigan