Back to top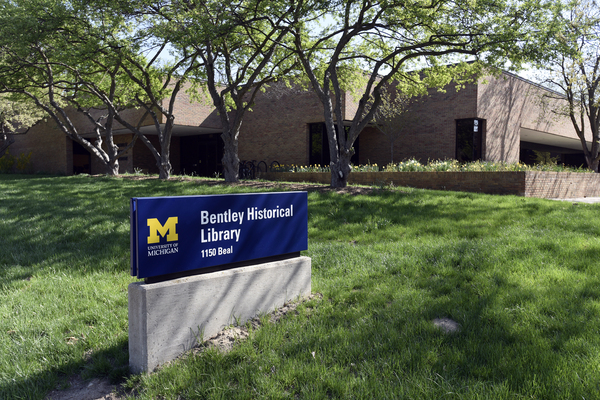 Address

:

1150 Beal Avenue

Ann Arbor, MI 48109-2113, USA
Inventory of University of Michigan-Owned Art (University of Michigan), 1988-1990, 1997-1998
Using These Materials
---
Restrictions:

The records are open to research.
Summary
Creator:

Abstract:

Redords of two projects: Inventory of University of Michigan-Owned Art, 1988-1989, and Fine Art Survey, 1997-1998, that sought to inventory and document works of art owned by the University of Michiagn.

Extent:

1 linear foot

Language:

English

Call Number:

0240 Bimu 2

Authors:

Finding aid created by Bentley Library Staff, 2002
Background
Scope and Content:

Records of Inventory of University of Michigan-Owned Art are primarily the product of the 1988-1990 inventory of University of Michigan-owned art. Reords include survey sheets, database print-outs, reports, and photographs and negatives generated during efforts to inventory campus artwork (excluding decorative art, furnishings, and portrait photography). Inventory information includes art work description, medium, artist information, and campus location at the time of the survey. Photographic documentation is limited and not comprehensive. Some background documents and photographs from the 1997-1998 survey of fine art undertaken by risk management staff, that built on the earlier inventory activity, are also included. The records are organized as two series indicative of the different inventory initiatives: Inventory of University of Michigan-Owned Art, 1988-1989, and Fine Art Survey, 1997-19980.

Biographical / Historical:

As the University of Michigan acquired works of art over the years, various catalogs and inventories have been compiled to track and identify the artwork. Early catalogs focused primarily on holdings in the developing museums. The 1858 Descriptive Catalogue of the Museum of Art and Antiquities, in the University of Michigan described engraved and photographic views of the topography, antiquities, and architecture of Rome along with plaster and terra cotta copies of models and statuary. In 1876 curator Henry S. Frieze produced the Catalogue of the Museum of Art & History in the University of Michigan. Frieze's catalog included engravings, photographs, chromo-lithographs, and paintings; sculpture; models and engravings of miscellaneous antique objects; and gems and medallions. The most significant item identified was the marble sculpture Nydia by Randolph Rogers.

Frieze served as the curator of these collections until his death in 1889. Martin Luther D'Ooge produced three published catalogs extending Frieze's work and reflecting new additions to campus works of art, including a growing collection of architectural specimens and artifacts. The first catalog issued by D'Ooge was the 1892 Catalogue of the Gallery of Art and Archaeology in the University of Michigan. These catalogs, with updated editions in 1902 and 1906, included some illustrations and etchings of pieces of sculpture and statuary. These catalogs also listed the works donated by Henry Clay Lewis of Coldwater, Michigan, a private collector devoted to making his collection available to the public. The bulk of the Lewis collection was eventually donated to the University of Michigan. While not a specific catalog of university-owned artwork, an 1875 catalog for the Lewis Art Gallery in Coldwater identifies many of the items eventually donated. (A 1980 dissertation by Carole Simon Drachler, The Gallery and Art Collection of Henry Clay Lewis, greatly expands the understanding of Lewis and his collection).

While a centralized art museum continued to develop, various class gifts and donations began to populate the campus with statues, memorials, and sculptures. Numerous paintings, drawings, prints, and photographs had accumulated in the interiors of campus buildings along with plaques and tablets in honor of donors, key university figures, and distinguished alumni. These items, located outside of the physical space of the Museum of Art (formally established in 1946, but housed since 1910 in Alumni Memorial Hall), were generally not inventoried among the museum holdings.

In December 1936 Aloysius G. Weimer began a survey of works of art at the University of Michigan. His survey work lasted until April 1937. His typescript catalog "Works of Art in the Collection of the University of Michigan" explained that several buildings had been thoroughly surveyed, while other buildings had gone unchecked or that information had been reported by others but not verified. Buildings surveyed are detailed in the foreword to his catalog. Weimer also noted that when time permitted, catalog numbers used in previous catalogs (Lewis 1875, Frieze 1876, and D'Ooge 1906) were given. The guide included five main categories: paintings, drawings, sculptures, prints, and photographs.

After the 1937 survey, no large-scale inventories were attempted until the late 1980s, with the exceptions of on-going curatorial work in university museums and a sculpture inventory by Plant Extension. The passage of Michigan Public Act 105 in 1980 mandated that all public agencies of state government inventory all objects of art in their possession and create a mechanism for yearly updating of the inventory. Inventory activity was coordinated by the Michigan Commission on Art in Public Places. In order to comply, the University of Michigan embarked on a comprehensive survey of fine art (excluding furniture, decorative art, documentary and portrait photography, and rare books and documents) from 1988 to 1990. The inventory consisted of three phases and resulted in 1,076 entries. Major collections already inventoried, such as the Museum of Art and Museum of Anthropology were excluded from the process.

The first phase of the inventory was undertaken in 1988 by a team from the Detroit office of the Commission on Art in Public Places. Some 363 listings were entered in a database. A second survey phase, done by university employees in 1988, produced 325 additional entries from 32 buildings. Each entry included a miniature photocopy of photographs of the works of art. The third phase, conducted by Elisabeth Thoburn between July 1989 and January 1990, resulted in 389 new entries covering 115 buildings. Entries from the last phase were documented through negatives and contact sheets.

After these three phases the inventory was not systematically updated. Some inventory activity occurred briefly in 1997 and 1998 when the university's risk management staff undertook a survey of fine art primarily for insurance purposes. Some additional photographs of art items were created during the course of this work.

For current information and images of outdoor public art and memorials researchers may wish to consult the "University of Michigan Outdoor Campus Sculptures, Artifacts, Architectural Features" site maintained by the University Planner's Office located as of spring 2016 at: http://public-art.umich.edu/the_collection/.

Earlier Guides and Inventories (Available at the Bentley Library):

Works of Art in the Collection of the University of Michigan, by Aloysius George Weimer (1936/1937) [FImu D6 W422]
Catalogue of the Gallery of Art and Archíology in the University of Michigan, by Martin L. D'Ooge (1906) [FImu C450]
Catalogue of the Museum of Art & History in the Univwrsity of Michigan, by Henry S. Frieze (1876) [FImu C450b]
The Lewis Art Gallery, Coldwater Michigan. Catalogue of Paintings & Statuary ... (1875) [FP 2 L673 L673h] (dissertation: by Carole Simon Drachler, The Gallery and Art Collection of Henry Clay Lewis [DB 2 L674 D757]
Descriptive Catalog of the Museum of Art and Antiquities, in the University of Michigan, 1858 [Fimu C450a]
Outdoor Sculpture: The University of Michigan Ann Arbor Campus, by Ellen A. Plummer and Frederick P. Mayer, 1993 [Fimu D5 P735 095]

Acquisition Information:

Records of the inventory and survey arrived from two different sources; Vice President for Government Relations in 1997 (Donor No. 7446), and Vice Provost for the Arts in 2000 (Donor No. 9039 ).

Accruals:

No further additions to the records are expected.

Rules or Conventions:

Finding aid prepared using Describing Archives: A Content Standard (DACS)
Subjects
Click on terms below to find any related finding aids on this site.
Contents
Using These Materials
---
RESTRICTIONS:

The records are open to research.

USE & PERMISSIONS:

Copyright is held by the Regents of the University of Michigan but the collection may contain third-party materials for which copyright is not held. Patrons are responsible for determining the appropriate use or reuse of materials.
PREFERRED CITATION:

[item], folder, box, Inventory of University of Michigan-Owned Art (University of Michigan), Bentley Historical Library, University of Michigan