Back to top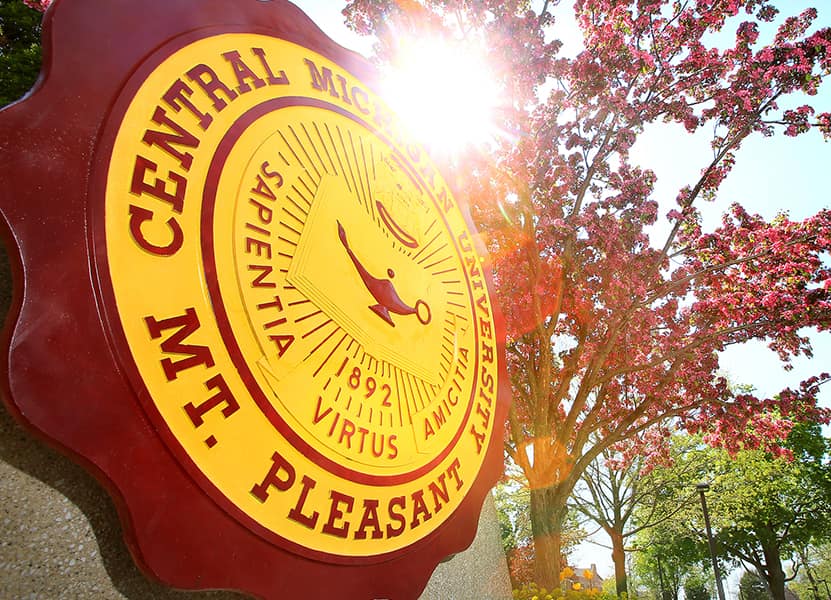 Address

:

250 East Preston Street

Mount Pleasant, MI 48859, USA
Central Michigan University. Office of the President, President Charles L. Anspach Papers, 1905, 2001, and undated
Using These Materials
---
Restrictions:

Central Michigan University. Office of the President, President Charles L. Anspach Papers are open for research.
Summary
Creator:

Abstract:

The collection contains biographical information, correspondence, photographs, reports, speeches, subject files, memorabilia, plaques, index card, and oversized materials of President Anspach.

Extent:

23 cubic ft. (in 22 boxes)

Language:

English

Authors:

Collection processed and finding aid created by S. Guzowski, K. Bailey, M. Matyn,
Background
Scope and Content:

The collection is divided into the following series: Biographical Information (2 cubic ft.), 1912, 2001, undated, including: obituaries (copies), his doctoral dissertation and thesis, certificates, citations, diaries, 1932-1958 (scattered) and 1960-1973, honorary degrees, inauguration materials, scrapbooks, 1948-1959, testimonials and tributes, and his Last Will and Testament, 1977; Correspondence (approximately 1 cubic ft.), 1932-1977, with various individuals, organizations, colleges, boards, and programs; Meeting Minutes (1.5 cubic ft.), 1939-1973, for various CMU departments, committees, and other organizations, councils, and programs; Photographs and Photograph Albums (1.25 cubic ft.), 1941, 1943, 1949-1968, 1971, undated; Reports (approximately 1 cubic ft.), 1937-1941, 1943-1959, 1964, 1970, undated, from CMU departments and committees, and other organizations, councils, and committees; Speeches (4.5 cubic ft.), on a plethora of topics, including speeches recorded on paper, 1929-1976, undated, speeches recorded on reel-to-reel tapes, 1958, 1967, 1971-1973, undated, and programs of speeches given by President Anspach, 1940-1973, undated; Subject Files (4.25 cubic ft.) for a wide variety of CMU organizations, committees, events, a plethora of issues, Michigan and national organizations, councils, boards, and issues of concern to President Anspach, 1931-1977, 1979-1982, undated; Miscellaneous Materials (Memorabilia) (2 cubic ft.) including a wide variety of Masonic, Boy Scout, and CMU memorabilia, such as: Masonic plate; CMU miniature cigarette lighter; Masonic penny; Masonic aprons; Medals; CMU Paperweights (2); numerous Pins; Shriner's (Masonic) Caps; a gavel; and miscellaneous, 1948, 1950, 1963-1974, undated; and Plaques (.5 cubic ft.), 1959, 1964, 1969, 1972-1973, undated, and a Boy Scouts statue, 1943-1945; and Index Cards (1 cubic ft.) to Articles and Photographs of Anspach in CMU's school newspapers, CSLife, later CMLife, 1939-1959. Oversized Materials (approximately 4 cubic ft.), including photographs and photograph albums, 1905-1972 (scattered), undated, certificates, 1946-1976 (scattered), undated, diplomas, 1920, 1923, a resolution, 1967, posters, undated, a guest book, 1939, and miscellaneous, are housed in three flat boxes

The collection extensively documents President Anspach's life and activities during his tenure as President of CMU. His activities in peace and religiously oriented organizations, with children's organizations and causes, the Boy Scouts, Masons, and various educational organizations and issues are well documented. His personal life at Ashland College, CMU, and after his retirement from CMU are documented to a lesser degree in the collection.

Biographical / Historical:

Biography:

Charles LeRoy Anspach was born on March 5, 1895, in Fremont (Ohio), the son of Phillip Noble and Amanda (Loose) Anspach. His father was a cabinet maker and general contractor. Charles attended Ross High School in Fremont for one year and then Ashland Academy from 1909 until he graduated, in 1912. While in high school he worked on the school paper, participated in debating activities, and played basketball and baseball.

From 1912 to 1914 Charles worked as a correspondent in the Service Department of Willys-Overland and Chevrolet Motors in Toledo (Ohio). He worked as the Assistant Manager for the Parts and Service Department of Chevrolet Motors in Flint, Michigan, 1916-1917. From 1917 to 1918 he worked as a correspondent in the Repair Division of Willys-Overland, University of Toledo Night School for Executives.

While working, Charles attended Ashland College, now University, from which he graduated in 1919 with a B.A. degree. He majored in biology and sociology and was salutatorian of his class.

In 1920, Charles earned his M.A. degree from Ashland. In 1923 he earned his second M.A. from the University of Michigan (UM). His thesis was entitled, "A study of five state reformatories." He earned his Ph.D. in 1930, also from the UM. His dissertation was entitled, "A study of student accounting in the liberal arts colleges."

Dr. Anspach's career in educational administration began in 1923 when he became the Registrar of Ashland College, a position he held until 1926. In 1926 Dr. Anspach was appointed Dean of the College. Dr. Anspach served as Dean until 1930, when he became the Head of the Education Department at Michigan State Normal College, Ypsilanti, now Eastern Michigan University (EMU). From 1934 to 1935, he served as Dean of Administration at EMU. Dr. Anspach then returned to Ashland College, where he served as President from 1935 to 1939.

On July 1, 1939, Dr. Anspach became the fifth President of Central Michigan University (CMU), a position in which he served until he retired in 1959. President Anspach was held in very high esteem by the CMU students and staff. He had a great memory for names. After meeting a person he never forgot them, and could greet them by name for years afterwards.

During his tenure, CMU grew from an enrollment of 2,284 students in 1939 to 7,247 students in 1959. There were seven buildings on campus when he arrived in 1939 and 40 when he retired in 1959. Widely respected throughout Michigan, President Anspach put CMU on the map in the state as a highly respectable college.

President Anspach was also a scholar, writing a number of books, including A voice speaks (1975), We're proud of Michigan and proud to present Crawford County (1959), and We're proud of Michigan and proud to present Montmorency County (1959). He also co-authored Problems in education sociology (1934) and A man of observation problems (1932). [Copies of all of these publications are available in the Clarke.]

He was also known and in constant demand for his speaking and story telling ability. Alumnae, Marge (Anderson) Griffin, CMU class of 1944, recalled in March 2003 how President Anspach could hold an auditorium of people spellbound for an hour by simply repeating various jokes and stories one after the other.

President Anspach was a devout Christian gentleman and humanitarian. He was active in the Peace Movement prior to World War II and in Temperance organizations. President Anspach was also a member of numerous national civic, business, and religious organizations, including: The National Council of the Boy Scouts of America, the Michigan Society for Mental Health, and Michigan's Young Men's Christian Association, among others. He also served on the Board of Directors of the Isabella Bank and Trust in Mount Pleasant, Michigan. President Anspach also served as a member of the Board of Regents for Eastern Michigan University, 1964-1974, the Board of Trustees at Ashland College, 1939-1973, and the Board of Northwood Institute, now Northwood University, Midland, Michigan, 1969-1973.

He was regarded as "the most personable and friendly man" John C. Hepler ever met and "One of the finest speakers I have ever heard." [From President Anspach's obituary in CMLife, October 26, 1966.

Many honors, civic and educational, were bestowed upon him. Both in 1954 and 1977, he was named Mount Pleasant's Most Outstanding Citizen of the Year. He received nine honorary doctorates and dozens of awards from civic, business, and education groups throughout the nation. President Anspach was also listed in Who's who in America, 1938-1970, and other, similar publications.

In 1916, Charles Anspach married Miss Mary Fisher (May 26, 1894, in Mexico (Indiana)-December 1, 1970, in Mount Pleasant). Mary was active in local churches and the WCTU. With Mary, Charles had two daughters, Mrs. Vivian (Henry) Boersma and Mrs. Lillian (Richard) Franklin. After Mary died, a scholarship at CMU was established in her name. Later, Charles married Dr. Elizabeth L. Wheeler-Anspach (1904-2003), a CMU Professor of Health Education. [Elizabeth's obituary is in the CMU Vertical Files.]

President Anspach had a history of strokes. On August 29, 1977, President Anspach suffered a severe stroke which had paralyzed his right side and left him unable to speak. He died on October 25, 1977 in the Isabella County Medical Care Facility. CMU classes were suspended so students could attend his funeral services at First Presbyterian Church, Mount Pleasant. He was buried in Mexico (Indiana). He was survived by his second wife, Elizabeth Wheeler-Anspach, his two daughters, and five granddaughters.

In 1994, the Charles and Mary Fisher Anspach Scholarship was endowed at CMU. Initially a loan fund, the scholarship is intended for sophomores, juniors, and seniors with a 3 point grade point average. The amount of the scholarship given each year is determined by the amount of interest earned on the endowment fund.

Two of Dr. Anspach's granddaughters, Marcy Boersma, and Charlene Franklin, are also CMU graduates. (This information is from the collection and the CMU Financial Aid Office.)

Acquisition Information:

No Acc#

Arrangement:

The collection is organized by series, alphabetically and then chronologically.
Contents
Using These Materials
---
RESTRICTIONS:

Central Michigan University. Office of the President, President Charles L. Anspach Papers are open for research.

USE & PERMISSIONS:

Copyright is unknown.
PREFERRED CITATION:

Central Michigan University. Office of the President, President Charles L. Anspach Papers, Folder # , Box #, Clarke Historical Library, Central Michigan University