Back to top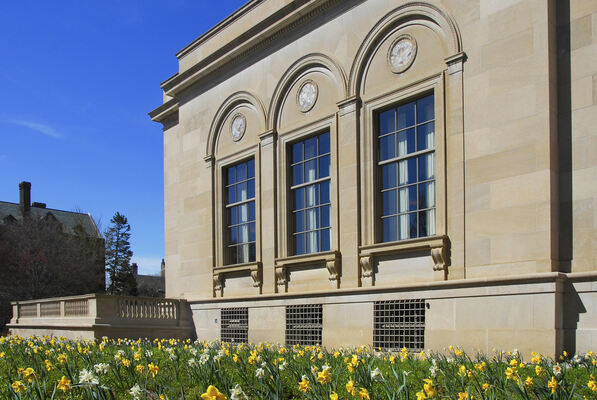 Address

:

909 South University Avenue

Ann Arbor, MI 48109, USA
Messerve family correspondence, 1849-1861
Using These Materials
---
Restrictions:

The collection is open to research.
Summary
Creator:

Abstract:

The Messerve family correspondence consists of 104 items, 98 of which are letters to Theodore Messerve and William J. Messerve, brothers who traveled to California in 1849 in search of gold. Theodore remained in California, often working as a printer, and William returned home to New York City, where he also worked as a printer, before traveling back to California. Their sister, Hannahette Messerve, is the author of many of the letters, which contain accounts of New York family, social, and political life in the 1850s.

Extent:

104 items

Language:

English

Sponsor:

Duane Norman Diedrich Collection

Authors:

Collection processed and finding aid created by Terese Austin
Background
Scope and Content:

The Messerve family correspondence consists of 104 items, of which 90 are letters addressed to Theodore Messerve, either to him directly or to him and his brother William, after he leaves New York City to join the California Gold Rush in 1849. Additional items include 8 letters addressed to William J. Messerve in California; 4 letters to unidentified recipients; and 2 miscellaneous items, of which one is a printed map (apparently removed from a book), entitled "Map of the Great West," showing routes from the east to California (undated). The chief authors of the letters are Theodore's sister, Hannahette (59 letters to Theodore and William J.) and William J. Messerve (26 letters to Theodore, written during a period from 1850 to 1855 when William was in New York City). The rest are from various acquaintances, friends, and family members.

The letters written by Hannahette and William J. Messerve contain many details of daily life in New York City during the 1850s. Hannahette writes about her social outings, a trip to the Blackwell Asylum to visit her Aunt Brown (11 July 1851), the sensation that Jenny Lind is creating in New York City (25 September 1850), the Daniel Sickles murder case (20 March 1859), and her status as a single woman. "I have not got a beaux yet I am afraid you are going to have an old maid for a sister. I have had two chances since you left, but they did not suit and I am determined not to marry till I am suited if I live to die an Old Maid." (10 October 1850) Hannahette also takes an interest in political reform, telling William of the new mayor of New York City and his efforts to reduce corruption and preserve "the quiet and good name of the Sabbath." (18 February 1855). She describes the appearance of a comet (probably Donati's), and the "telescope man" on the corner of Broadway and Park Place, charging passersby to look through his optical instrument (4 October 1858). She visits the moving Panorama of the Mississippi and the Panorama of California, both of which made stops in New York City in 1850. William writes his brother Theodore of the many theatrical performances he attends, in addition to details and rumors relating to the Edwin Forrest divorce case (27 June 1850, 21 September 1851, and February 1852).

The letters of the Messerve family, Hannahette and William J. in particular, reveal the place that California held in the popular imagination. Hannahette and her father, William Messerve, perceived it as an uncivilized place, full of vice and danger. She is constantly urging her brothers to resist the temptations of California, and her father refers to California as a land "infested with thieves, incendiaries & mercenaries & where justice is a mockery." (10/11 August 1851) In the same letter, Hannahette warns against associating with Spaniards: "…you know but little of the Spanish character I hear they are the most deceitful and jealous people in the world." (31 March 1851) She reiterates this opinion in several other letters.

William J. Messerve's view of California is quite different. While Hannahette urges her brother Theodore to use caution in his spending habits, worries constantly about his health -- moral and physical -- and is always hoping that he will return to his family and the safety of New York City, William is drawn by California's promise of financial independence. He is frustrated by his lack of advancement as a printer at Harper's Monthly Magazine. He joins a union, but complains that the "employer is not giving them anything they ask for," although a later strike seems to have resulted in some improvement. (10 February 1851) He writes often of returning to California, or, failing that, of taking ship to Australia or South America to seek out adventure and prosperity. "I think about going off the d___l knows where. This working for 10 or 12 shillings a day is a slow way of amassing a fortune & I think I shall knock off this d__m business of sticking type. It is incongenial to my tastes, health & constitution…If I were making money here I should certainly stay (& may stay anyhow) but hope not… My intention is, if I can, to get a supercargo's berth -- to go anywhere -- to the moon, if a chance should offer -- for, this standing like a statue (on one foot square) all day, is complete death to me." (10 May 1852) In spite of the potential for fire, robbery, illness, destitution, and moral corruption, William is drawn again to California and the chance -- however elusive -- for a more fulfilling life.

Indeed, at times it seemed that every man in New York was headed out to California. Theodore's cousin, John Messerve, writes, "California is the all-absorbing topic." (12 March 1850) In 1852, William writes Theodore that the steamers leaving for California are packed with people. Many of the Messerves' acquaintances, and several relatives, had made the trip, with mixed success. (A cousin, Abraham Messerve, established an upholstery business in San Francisco -- the starting point of the fire of May 4, 1851, which destroyed three-fourths of the city.)

An incomplete picture of Theodore's life in the West can be pieced together from scattered passages in the letters. He occasionally traveled to the mines to try his luck -- apparently a dangerous undertaking -- but more often worked as a printer for the Daily Alta California and San Francisco Herald newspapers. A visitor to the Messerve's lodgings in New York reported that Theodore was a favorite with the Indians. William Messerve wrote to Theodore that he is "much amused with your account of the indian life & your interview with Red Cap the Chief & about the large trees & your climbing up the precipices & crossing the creeks & trudging through the mire." (10 August 1851) Theodore excited the fears of his sister when he took up with a married woman. Hannahette scolded him in a letter of 31 March 1851: "I think you act very wrong in encouraging or paying a married woman so much attention…. It is very strange her husband is not jealous of you if his wife shows so much affection for you." Theodore also experienced several financial setbacks, through theft and bad loans, prompting reproaches from his family for not sending his money home for safekeeping in a New York bank. But despite pleas from his family, and apparent promises to return, he remained in California.

Biographical / Historical:

William Messerve married Mary Sparkman in 1817, and raised three children -- William J., Hannahette, and Theodore -- in New York City in the early half of the 20th century. Both William and Theodore were employed in the printing trade. On February 3, 1849, afflicted with "gold fever," they both traveled to California to pursue new opportunities for prosperity. Theodore remained in the San Francisco area, but, shortly after their arrival, William became ill and he returned home early in 1850. After spending several years working at Harper's Monthly Magazine, and the Evening Post, William, Jr., went back to California sometime late in 1854 or early 1855 to try his luck again.

Apparently, both brothers spent the rest of their lives in California. Theodore married Lola Ruiz in 1865, in spite of warnings from his sister Hannahette: "I have no fear of your ever thinking of marrying a Spanish girl I hear they are all very bold and have very little delicacy & that makes me sure you could not love them," (Hannahette Messerve to Theodore Messerve, 10 December 1850). He worked as a pressman and compositor for the Daily Alta California, a San Francisco newspaper, and was on the staff of compositors for the San Francisco Morning Call in 1878, when he died. William J. Messerve remained in the printing business in the San Francisco area and died in California in 1899 at the age of 74.

When they relocated to California, the brothers left behind their sister, Hannahette, who was a young single woman in 1849. She lived with her father, maintained a circle of female friends, and spent time with the extended Messerve family in New York and Bergen, New Jersey. She took care of their father through his illness and was with him when he died in 1857. The Messerve family rented their lodgings, and after her father's death, Hannahette found it necessary to live with relatives, using income from the rental of her father's market stall and from her sewing, to pay her board.

Acquisition Information:

Donated by D. N. Diedrich,2005. M-4454.5 .

Arrangement:

The collection is arranged chronologically.

Rules or Conventions:

Finding aid prepared using Describing Archives: A Content Standard (DACS)
Related
Additional Descriptive Data:

Related Materials

Edwin Forrest papers, William L. Clements Library, University of Michigan.

Messerve, Theodore. "The Log of a 49er on His Trip Around Cape Horn, Jan. '49 to July '49 - From the Diary of Theodore Messerve." Overland Monthly, second series 64(July 1914): 15-23; (August 1914): 187-192; (September 1914): 287-392; (October 1914): 397-403; (November 1914): 510-516; (December 1914): 606-610. Available on Google Books: books.google.com.

Bibliography

References to Forrest and Macready affair, and the Sicklesmurder trial:

"Account of the terrific and fatal riot at the New-York Astor place opera house, on the night of May 10th, 1849; with the quarrels of Forrest and Macready, including all the causes which led to that awful tragedy! Wherein an infuriated mob was quelled by the public authorities and military, with its mournful termination in the sudden death of mutilation of more than fifty citizens, with full and authentic particulars…" New-York, H.M. Ranney, 1849.

"A rejoinder to 'The replies from England, etc. to certain statements circulated in this country respecting Mr. Macready.' Together with an impartial history and review of the lamentable occurrences at the Astor place opera house, on the 10th of May, 1849. By An American citizen." New York: Published by Stringer & Townsend, 1849.

Alger, William Rounseville, 1822-1905. Life of Edwin Forrest, the American tragedian. Philadelphia: J.B. Lippincott & Co., 1877.

Brandt, Nat. The congressman who got away with murder. [Syracuse, N.Y.,], Syracuse University Press, 1991.

Forrest, Catherine Norton Sinclair. Report of the Forrest divorce case: containing the full and unabridged testimony of all the witnesses, the affidavits and depositions, together with Consuelo and Forney letters : this edition is published under the direct supervision of the law reporter o the New York Herad, and is the only one containing the suppressed testimony. New York (No. 33 Rose Street) ; Robert M. De Witt [1852].

Sickles, Daniel Edgar, 1825-1914. Trial of the Hon. Daniel E. Sickles : for shooting Philip Barton Key, Esq., U. S. District Attorney, of Washington, D.C., February 27th, 1859, reported by Felix G. Fontaine. New York, Robert M. DeWitt, 13; Frankfort Street, [1859].

Personal Name Index

Dally, Eleanor
Day, Ann Eliza, b. c. 1839
Forrest, Catherine Norton Sinclair, 1817-1891
Forrest, Edwin, 1806-1872
Green, Emily
Lowerre, James
Messerve, Abraham
Messerve, Hannahette (a.k.a. Henrietta), b. c. 1830
Messerve, Theodore, c. 1828-1878
Messerve, William J., d. 1899
Messerve, William, d. 1857
Riker, Abraham
Riker, Elizabeth
Rogers, Sarah
Sparkman, Ann. c. 1784-1858
Sparkman, Mary b. 1797
Subjects
Click on terms below to find any related finding aids on this site.
Subjects:

Amusements--New York (State)--New York.
Daily alta California.
Fires--California--San Francisco.
Harper's monthly magazine.
Homeopathy.
Printing industry--California.
Printing industry--New York State)--New York.
Psychiatric hospitals--New York (State)--New York.
Theater--New York (State)--New York--History--19th century.
Women--New York (State)--New York.

Names:

Forrest, Edwin, 1806-1872--Trials, litigation, etc.
Lind, Jenny, 1820-1887.
Sickles, Daniel Edgar, 1819-1914.
Messerve, Hannahette (Henrietta), b. c. 1830.
Messerve, William J., d. 1899.

Places:
Contents
Using These Materials
---
RESTRICTIONS:

The collection is open to research.

USE & PERMISSIONS:

Copyright status is unknown.
PREFERRED CITATION:

Messerve Family Correspondence, Duane Norman Diedrich Collection, William L. Clements Library, The University of Michigan