Back to top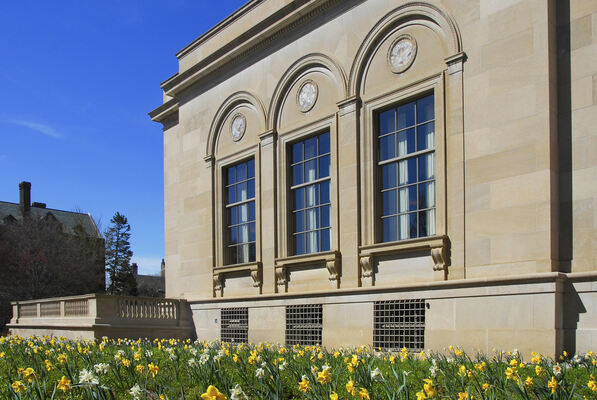 Address

:

909 South University Avenue

Ann Arbor, MI 48109, USA
Sears and MacDougall family collection, 1910s-1960s (majority within 1924-1953)
Using These Materials
---
Restrictions:

The collection is open for research.
Summary
Creator:

Abstract:

This collection is made up of personal letters related to the immediate and extended family of Philip Mason Sears, including his wife, Zilla MacDougall; his children, Charlotte and Philip Sears; Zilla's sister, Charlotte MacDougall; and Zilla's brother-in-law, Danish diplomat Henrik Kauffmann. Family members wrote about foreign travel, service in the United States Navy, and daily life in the United States and abroad from the mid-1910s to the mid-1960s.

Extent:

3 linear feet

Language:

English

Authors:

Collection processed and finding aid created by Meg Hixon, February 2014
Background
Scope and Content:

This collection is made up of personal letters related to the immediate and extended family of Philip Mason Sears, including his wife, Zilla MacDougall; his children, Charlotte and Philip Sears; Zilla's sister, Charlotte MacDougall; and Zilla's brother-in-law, Danish diplomat Henrik Kauffmann.

Much of the early correspondence revolves around Zilla MacDougall Sears, including letters that she wrote to her parents, grandparents, and sister about her foreign travels and life in the United States in the 1910s and 1920s. She visited London, England, in 1916 and 1917, and went to Copenhagen, Denmark, and Berlin, Germany, in the early and mid-1920s. In 1925, she described her travels in China, particularly her experiences in Peking (Beijing). Zilla also discussed her life in Syracuse, New York, and family life in Dedham, Massachusetts, after her marriage to Philip Mason Sears in 1924. In December 1924, the couple received congratulatory telegrams. The collection also contains many telegrams from the 1920s and 1930s concerning family health and family travels, including items sent by William MacDougall and Philip Mason Sears.

Additional early items include letters that Henrik Kauffmann wrote to Philip Mason Sears in the 1910s and 1920s, and letters that Charlotte MacDougall Kauffmann wrote to her parents and sister in the 1920s. Henrik and Charlotte's correspondence, often written on Danish stationery, concerns their travels and lives in China, India, Thailand, Japan, Denmark, and other locations. Prior to their marriage, Henrik discussed his excitement about Charlotte's upcoming visits and otherwise commented on their relationship. Correspondence from the 1930s includes additional travel letters and telegrams, and a group of letters to Zilla MacDougall Sears regarding her desire to purchase a Sicilian donkey from a company in Palermo in 1933. Zilla also wrote a letter to her mother on "swastika" stationery from Cuernavaca, Mexico (March 7, 1936).

Much of the material from the World War II era concerns the naval service of Philip Mason Sears and Philip Sears, Junior. The Sears children wrote a small number of V-mail letters to their father while he was stationed on the USS Fuller in the Pacific in 1942. From 1944 to 1946, Philip Mason Sears, Jr., wrote to his parents and sister about his experiences in the navy, including his participation in the V-12 Navy College Training Program at Dartmouth College in Hanover, New Hampshire, and his later experiences on a base in the Nevada desert. He often discussed his desire and attempts to gain entry into the aviation service and/or gunnery school. Additional correspondence from the early to mid-1940s includes letters that Charlotte Sears ("Poppin") wrote to her family about her studies and other experiences at the Foxcroft School in Middleburg, Virginia. Many of her letters feature cartoonish doodles and drawings. Zilla MacDougall Sears also received letters her nieces and nephews, including David and "Liza Jane" (who included colored drawings of horses in her letter postmarked from Lake Placid, New York, on July 18, 1942). The Sears children also received letters from their aunt, Charlotte MacDougall Kauffmann, then living in Washington, D.C.

After the war, the bulk of the collection is comprised of letters from Henrik and Charlotte MacDougall Kauffmann and Charlotte Sears (later Look) to Zilla MacDougall Sears. The Kauffmanns wrote to Zilla after returning to Denmark in 1946; among other topics, they discussed some of the lingering effects of the war. In the early 1950s, Charlotte Sears and her husband, David T. Look, wrote to Zilla about their experiences in Washington, D.C., including their work and leisure activities. In 1953, Charlotte described her travels in southern California and in Europe. The final items largely consist of Charlotte Kauffmann's letters to Zilla Sears from Switzerland and Denmark as late as 1963; while in Switzerland, she mentioned her participation in winter sports.

Additional materials include newspaper clippings about the death of Clinton MacDougall and the atomic bomb, the Sears children's school essays, and other miscellaneous manuscripts. A small number of picture postcards are present throughout the correspondence. The collection's photographs and negatives pertain to United States sailors and to people at leisure indoors and outdoors.

Biographical / Historical:

Philip Mason Sears was born in Boston, Massachusetts, on December 29, 1899, the son of Philip Shelton Sears and Mary Cabot Higginson. During World War I, he trained at the United States Army Coastal Artillery School at Fort Monroe, Virginia. In 1919 he was commissioned 2nd lieutenant and placed in the officers' reserve. Sears represented Dedham in the Massachusetts General Court from 1935 to 1938 and was chairman of the Massachusetts Republican State Committee until 1950. From 1953-1960, he was United States Representative to the United Nations Trusteeship Council. He died on December 13, 1973.

Zilla MacDougall was born in Syracuse, New York, on July 27, 1902, the daughter of Rear Admiral William D. MacDougall and Charlotte Stone. On December 29, 1924, she married Philip Mason Sears. They had two children: Philip Mason Sears, Jr. (1926-1976), and Charlotte (1929-1956). Zilla MacDougall Sears died on December 19, 1988. Philip Mason Sears, Jr., served in the United States Navy during the later years of World War II. Charlotte Sears married David T. Look; they had two children, David T. and Lucy.

Charlotte MacDougall (1900-1963), the elder daughter of William and Charlotte Stone MacDougall, married Danish diplomat Henrik Kauffmann (1888-1963) around 1924. In the 1920s and 1930s, Kauffmann was the Danish ambassador to Italy, China, Japan, Thailand, and Norway. During World War II, he and Charlotte lived in the United States, where he was an outspoken opponent of the German-controlled Danish government. Kauffmann famously signed an unauthorized treaty between Denmark and the United States regarding the defense of Greenland in 1941. From 1947 to 1963, he and his wife spent much of their time in Washington, D.C., where he was the Danish ambassador to the United States. Charlotte MacDougall Kauffmann killed her husband, then suffering from prostate cancer, and herself in Copenhagen in June 1963.

Acquisition Information:

2000. M-4117.1 .

Processing information:

Cataloging funded by the National Historical Publications and Records Commission (NHPRC). This collection has been processed according to minimal processing procedures and may be revised, expanded, or updated in the future.

Arrangement:

Please consult with the Manuscripts Division.

Rules or Conventions:

Finding aid prepared using Describing Archives: A Content Standard (DACS)
Related
Additional Descriptive Data:

Related Materials

The Boston Athenaeum holds a collection of Sears and MacDougall family papers.

Bibliography

Class of 1889, Harvard College: Thirtieth Anniversary, 1889-1919. Eighth Report of the Class Secretary. 1919.

The Compendium of American Genealogy: The Standard Genealogical Encyclopedia of the First Families of America. Ed. Frederick Adams Virkus. Volume 6. Baltimore: Genealogical Publishing Company, 1968.

Hayden, Irving N., and Lawrence R. Grove. 1947-1948, Public Officers of the Commonwealth of Massachusetts. [Boston, Mass.?]

"Mason Sears Dead; Ex-U.S. Aide at U.N." The New York Times 15 December 1973: 34.

"[Obituary 1]." The New York Times 28 December 1988: B6.

Putnam, Elizabeth Cabot, and James Jackson Putnam. The Hon. Jonathan Jackson and Hannah (Tracy) Jackson, Their Ancestors and Descendants. Privately Printed, 1907.

"Wife Kills Former Danish Envoy, Ill, and Herself." The New York Times 6 June 1963: 14.

"Wm. M'Dougall, 75, Rear Admiral, Dies." The New York Times 7 March 1943: 38.
Subjects
Click on terms below to find any related finding aids on this site.
Subjects:

Formats:

Names:

Places:
Contents
Using These Materials
---
RESTRICTIONS:

The collection is open for research.

USE & PERMISSIONS:

Copyright status is unknown
PREFERRED CITATION:

Sears and MacDougall Family Collection, William L. Clements Library, The University of Michigan