Back to top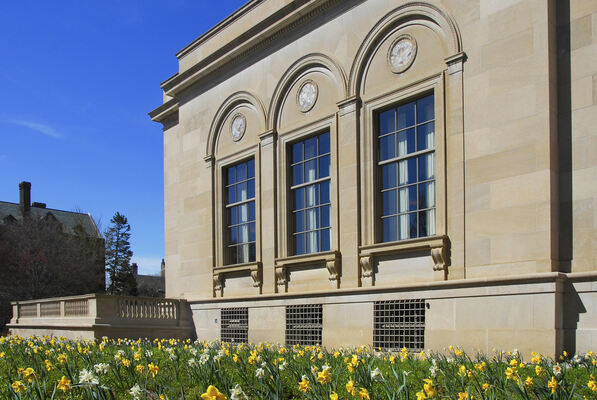 Address

:

909 South University Avenue

Ann Arbor, MI 48109, USA
Blanche and Lena Smith papers, 1870-1931 (majority within 1905-1906)
Using These Materials
---
Restrictions:

The collection is open for research.
Summary
Creator:

Abstract:

The Blanche and Lena Smith letters consist of the correspondence of the Smith sisters as young women living in the Western United States including their time spent at a sanitorium in Colorado Springs.

Extent:

1.5 linear feet

Language:

English

Authors:

Collection processed and finding aid created by Rachel K. Onuf, 1998
Background
Scope and Content:

Although most of this correspondence relates to Lena and Blanche Smith, the earlier letters include six excellent courtship letters from their mother to their father, while she was still in Connecticut and he was in Chicago. There are a handful of letters from Fannie's sister Jennie and other relations, and from Horace's Aunt C. Manning Watson, and her daughter Elizabeth. Most of the letters are from Blanche's friends and Lena's boyfriend Will Brown; there are also a significant number from the sisters, written from Colorado Springs, back home to their parents. In addition to over 500 letters, there is a large amount of ephemera, including school papers, sketches, unidentified photographs, invitations, and some items relating to tuberculosis.

Miss Fannie had a wonderfully forthright writing style. She informed Horace, "I do not want to deceive you, and I tell you frankly, that we are poor but respectable, and that we work for what we have" (1876 April 16). Fannie had learned dressmaking, and was prepared to support herself if necessary. Although she liked to tease Horace, she also seemed to write straight from her heart. For instance, she reflected on the continuing impact of her father's death: "I thought I shed as many tears as I could when he died, but I have found I was mistaken for there are times when I miss him as much if not more than at first. And if he had lived I don't think I should have ever have left home seeing I was the youngest and the only one left, and he was lame and thought so much of his home, and of having me stay there" (1876 May 3).

Both Horace and Fannie's complaints about their health foreshadowed their daughter's tuberculosis. Horace had "weak lungs," and when they were courting, Fannie informed Horace that "I think sometimes I am troubled by Catarrh, but not as bad as I was before I went West, the climate helped me I think for I did not doctor for it any. I am so afraid it will lead to Consumption if not taken care of at first I was frightened about myself once but it was more imagination than anything else" (1876 May 17).

For her part, Blanche maintained a fairly straightforward, patient view of her illness, which was often tinged with humor. She described her doctor in San Francisco as "just like all the other doctors in Calif. thump you a little, ask you a string of questions just for show, & charge you $10.00" (1904 December 2). Once she was in Colorado, she wrote her parents. "You know I don't want to keep any thing from you, but I do hate to fill up a letter with my aches & pains. I can stand it better than being punched twice a day" (1904 December 30).

She kept true to her word about not wanting to keep anything from her parents. She wrote frankly about the Ranch -- "The only thing I think is wrong about the place is their emptying all the old slop right out on the ground about 20 ft. from my tent..." -- and her inner workings: "I eat all I possibly can & have quite a time keeping my bowels in order. I drink 6 glasses of milk & take 6 raw eggs a day" (1905 January 5, January 20).

Both sisters also kept their parents well-informed about each other's good and bad behavior. Lena often got frustrated with her needy sister, and after working all day, did not always want to sit with her, or devote her time to writing letters home or to her boyfriend back in Friend, Will Brown. Blanche complained about feeling lonely, and that Lena was spending too much time with various men. One man "always turns up just at the right time. If Will Brown knew half she was doing I think he would make sure of her inside of a month. Some of her actions surprise me, and that's saying a good deal" (1906 January 15). In her last letter to her father, marked "Private," Blanche was still sharply voicing her concern about her sister's behavior (1906 March 9).

Blanche may well have been jealous of the attentions paid to her sister, and of the men who took up Lena's free time. Her reports, however, were probably not exaggerated. One letter in the collection, from "Sam," to Lena, includes this startling bit: "I do love you Lena today as much as any time we were together and I do hope all will go well as we had planned. Do you still hope the same?" (1904 May 24).

Will Brown began writing to Lena in 1902, and after reading his prolific letters it is easier to sympathize with the errant Lena. Will was constantly traveling on business, and would write Lena tedious descriptions of where he was, what he was doing, and what his prospects for the future were. The fact that all of his plans for getting ahead in business fell through, year after year, probably did not enhance Lena's reading experience. In June of 1905 she evidently berated Will for his writing style, but although he admitted "I have felt that my letters to you were not what they should be," he excused himself by saying he thought Blanche would probably be reading the letters too, so he did not want to get too personal (1905 June 22). Lena even confided in her father about Will, telling him, "I'm afraid I feel more each day that I'm getting out of the notion of marrying anyway -- that I'd rather take care of myself again," indicating that caring for Blanche was taking its toll on her sister (1906 February 9).

Will never did get very romantic, and his overall tone was more one of defeat. Even a turn as a successful hotelier in Loveland, Colorado, was brought to a screeching halt by an appendectomy, which left Will in terrible debt and unable to work for several months. He released Lena from her engagement, and although she was entertaining a very familiar correspondence with Billy Taylor, whom she had met in Colorado, and complaining again about Will's letters and the long delay in their plans, Lena did eventually marry Will Brown (1907 November 9, 1908 July 5).

Blanche corresponded with friends she had made at various stages in her life. Lulu Hall, Carrie Roehl, and the Browns were all people she had met while living in Friend. Her California friends included Babe Sinclair, Miss Rich, Isis Gasaway, Freda Wisner, and Charles Putnam, a boy she had probably gone with in San Francisco. Charles seems rather immature, and Blanche evidently found him too "spoony" and got tired of him writing about how much he loved her (1905 April 17). Charles thought she was only discouraging him because of her sickness, and relied on that old but effective trick, jealousy, to warm her up again. After nonchalantly describing various events he had attended as the escort of "Miss C.," Charles apparently began hearing from Blanche more regularly.

Isis and Freda both got married while Blanche was in Colorado. Isis still lived with her family, which she found a bit disconcerting. She confided in Blanche, "as it is, it just kind of seems like Sherm just came here to stay with all of us. Don't tell anybody but the only time it really seems like I'm married is when I go to bed with Sherm" (1906 February 17).

After she moved into the cottage in Colorado Springs, Blanche received a few letters from Fred Davis and Bob Ferris, two "lungers" she had met at the ranch. Fred, who had moved on to the Adam Memorial Home in Denver, wrote, "I am so tired of these institutions. I long -- oh how I long for a home with a little h where I can put my feet on the parlor furniture and hoist the curtains above see-level and go to the pantry and detach choice bits from the cold turkey left from dinner and -- oh just holler" (1906 January 23).

In the last few months of her life, Blanche met and began going to see Mrs. Carpenter, a Christian Scientist who changed the way Blanche thought about her illness. "It isn't our body that's sick, its the thought," she informed her parents (1906 January 26). Lena thought the influence of Christian Science might do Blanche some good, for Mrs. Carpenter "told Bee that fear was one of her greatest troubles -- that because she had this trouble she was scared all the time for fear she wouldn't get well" (1906 February 9). Putting her faith in God as a healer freed Blanche from her fear. In her last letter to her "Popsie" before her death, even as her limbs were swelling up "large & hard," Blanche wrote: "Christian Science is wonderful and O, so much good is done by it. I feel such a decided change going on, all over my body & I know its God's healing power. He is healing me every day papa & I want you to know it. Think it & declare it every day for your thots will do me so much good" (1906 March 9). Within three weeks, Blanche had died.

Biographical / Historical:

Horace Manning Smith was probably born on March 17, 1855 in New York State, the son of Harvey C. Smith. By 1876, he had moved to Chicago, where he worked at the West Side bank of Preston, Kean, & Co. He corresponded with Fannie, a young woman who lived on her parent's farm in Winthrop, Conn. and they were married by May of 1878.

Fannie, who was born December 14, 1853, was the youngest of four children. She had a sister Jennie, who lived out west, and two brothers, one who was also out west, and Henry, who was often at sea. Henry's wife and three children probably also lived on his parent's farm, for Fannie referred to her three year old niece as her bedfellow. Fannie spent a couple years with her siblings in Illinois and Iowa, and she might have met Horace while she was out there. Fannie's father died suddenly in his sleep in March 1876, and her mother planned to sell the farm and move west. Fannie couldn't decide whether to continue living with her sister-in-law, move to Delaware and work as a dressmaker, or go west, although her inclination definitely seemed to be to move to Chicago and marry Horace, as she eventually did.

Horace's father died in the spring of 1878, and Horace and Fannie had their first child, Lena, later that year. A second daughter, Blanche Matilda, was born September 9, 1883, followed by Frank, Mildred, and Elizabeth. The young family spent some time in Illinois before settling in Friend, Nebraska, where they lived through the 1890s. There Horace farmed and served in the state government as a Republican State Representative.

By 1900 the Smiths had moved to the Maywood Colony in Corning, California, which had been established by Warren N. Woodson. He offered 10 acre plots to people who wanted to move to California but could not afford large tracts. The family moved once more, to Lodi, and by 1904, Horace had joint interest in the "Young & Smith Lumber Company."

Lena and Blanche were now old enough to strike out of their own. Lena went out to Marathon, Iowa, to teach school in 1903, and then on to Cedar Falls. Blanche headed to San Francisco, probably on account of her delicate health, and she lived at the Mentone residence hotel. Their brother Frank married Mary Whitney, a missionary's daughter, on November 24, 1904.

Blanche's health continued to decline, and in early December of 1903, she relocated to a sanitarium in Colorado Springs, accompanied by Lena. Lena got a job waiting on tables at the dining room of the sanitarium, which was called the Ordrach Ranch, so she could be near her sister. Blanche spent much of her time sitting outside with the other "lungers," and slept in a well ventilated "tent," as part of the fresh air treatment for her tuberculosis. In August, 1905 the girls moved to a cottage in town, and their father visited them soon after. Blanche met a Christian Scientist, Mrs. Carpenter, and began going to her for treatments, and stopped taking medicine. Their mother came out with Mildred and Elizabeth for an extended visit early in 1906. After a rather short and sudden decline, Blanche died in late March of 1906.

After Blanche's death, Lena moved back to Lodi, returned to teaching, and eventually married William Brown, her long-term, long-distance boyfriend. Will, an anti-saloon man back in Friend, Nebraska, had been elected city clerk in 1903. He worked for a number of businessmen, including A. C. White, a dealer and shipper of grain, and often wrote about buying his own grain elevator. In July of 1908, Will was working as an agent at his brother August's insurance company in Hardy, Neb., and by 1912, Lena had finally married him.

Acquisition Information:

1995. M-3120.1 .

Rules or Conventions:

Finding aid prepared using Describing Archives: A Content Standard (DACS)
Subjects
Click on terms below to find any related finding aids on this site.
Subjects:

Betrothal.
Business travel.
Christian Science.
Courtship.
Female friendship.
Lumbering--California.
Sisters.
Tuberculosis--Diet therapy.
Tuberculosis.
Women--Diseases.

Names:

Biggs, Maggie.
Brown, William.
Chase, O. M.
Fraser, Nell Smith.
Gardiner, Ida.
Gasaway, Isis.
Hall, Lulu.
Putnam, Charles.
Rich, Miss. E.
Roehl, Carrie
Sinclair, Babe C.
Smith, Blanche Matilda, 1883-1906.
Smith, Elizabeth.
Smith, Fannie.
Smith, Frank.
Smith, Harvey C., d.1878.
Smith, Horace Manning.
Smith, Lena b.1878.
Smith, Mildred
Smith, Sarah Brand, d.1893.
Triplett, T. M., M.D.
Walker, Lillie.
Watson, C. Manning.
Watson, Elizabeth C.
Whitney, Mary.
Wisner, Alfreda Tibbetts.

Places:
Contents
Using These Materials
---
RESTRICTIONS:

The collection is open for research.

USE & PERMISSIONS:

Copyright status is unknown.
PREFERRED CITATION:

Blanche and Lena Smith Papers, William L. Clements Library, The University of Michigan