Back to top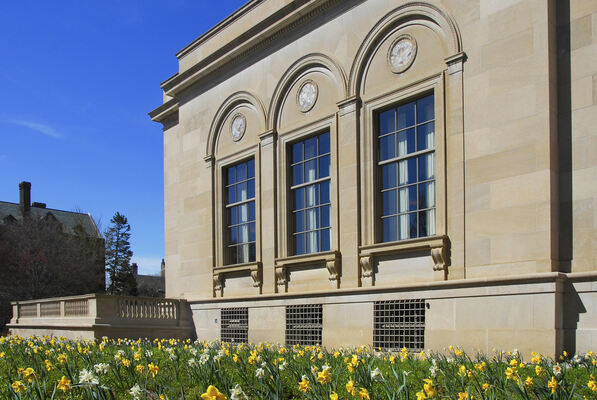 Address

:

909 South University Avenue

Ann Arbor, MI 48109, USA
Charles Snyder papers, 1857-1866
Using These Materials
---
Restrictions:

The collection is open for research.
Summary
Creator:

Abstract:

The Charles Snyder papers contain correspondence between Snyder, a soldier in the 50th New York Engineers, his future wife, and other family members, concerning soldiers' duties and attitudes, religious activities, and other topics.

Extent:

0.5 linear feet

Language:

English

Sponsor:

James S. Schoff Civil War Collection

Authors:

Collection processed and finding aid created by Shannon Wait, May 2010
Background
Scope and Content:

The Charles Snyder papers contain 182 letters to and from Snyder, 1857-1866, and one carte-de-visite photograph of him in uniform. Charles wrote 67 letters; his future wife, Hannah Wright, wrote 77; his sister Lizzie wrote 10; and his brother Steve wrote 8. Miscellaneous friends and family contributed an additional 20 letters.

The 14 letters predating Snyder's enlistment concern his teaching career, study at the University of Albany, religious activities, and family news from several of his sisters. After the outbreak of the Civil War, Snyder commented regularly on the conflict; he stated that the "strongest moral power" would be needed by soldiers in order to resist the temptations of camp life (September 17, 1861) and described a visit to the barracks of his brother William, a soldier in the 97th New York Infantry (January 25, 1861).

Between Snyder's enlistment in August 1862 and the end of the war, almost all of the correspondence is between Charles Snyder and his future wife, Hannah ("Nannie") Wright. In his letters, Snyder gave his frank opinions of various aspects of the war, often influenced by his strong religious convictions. Snyder initially felt that a recruiter had deceived him about the character of the regiment he had joined, particularly objecting to the men's swearing and drinking, and in several early letters, expressed his disillusionment with their behavior, as well as with the Union's mounting defeats. In other letters, he described his duties with the 50th Engineers, including building and destroying roads and bridges, constructing rafts, unloading trains, clearing brush, filling ditches, and moving boats, but wrote "that our country is receiving the full benefit of our sacrifices is not so clear to me" (November 27, 1862).

Snyder's letters provide many rich details of his experiences, such as the taunting by Confederates wielding a sign reading "Burnside stuck in the mud" (January 25, 1863), the universal dislike of the strict pass system instituted by the army (August 30, 1863), and the eating of a Thanksgiving turkey that he and his friends named "Jeff Davis" (November 28, 1863). On several occasions, he wrote to Hannah regarding the morale of the Army of the Potomac, discussing their "unabated" confidence in General Joseph Hooker (May 7, 1863) and stating that they did not consider Chancellorsville a total defeat, especially with the death of Stonewall Jackson, which he considered "equivalent to the loss of many thousand men" (May 20, 1863). Many of Snyder's 1865 letters relate to his promotion to first lieutenant and his desire to return home to Hannah, whom he intended to marry.

In her letters, Hannah Wright discussed religious activities (including involvement with the Tract Society), teaching, and family news, and she also expressed concern and affection for Charles. Later correspondence indicated her increasing involvement in the Union cause, including going to meetings of the U.S. Sanitary Commission (December 21, 1864), and knitting for soldiers. Wright shared Snyder's religious devotion and strict moral code. She reacted strongly to his news that Mary Todd Lincoln had worn makeup to a reception held for soldiers by President Lincoln, writing "It is a sad pity Mrs. Lincoln isn't a true woman" and calling it a "sin" (February 19, 1864). Letters from Snyder's brother Steve and sister Lizzie are primarily personal, regarding health, social visits, and news about other enlisted friends and neighbors.

Biographical / Historical:

Charles E. Snyder was born in Constableville, Lewis County, New York, on January 10, 1836, the son of farmer John Snyder and his wife, Eleanor Roberts. Snyder taught district school between 1852 and 1857 and entered the University of Albany in 1858, graduating in 1859. He then returned to study law, receiving his L.L.B. degree in 1862. On August 13, 1862, he was mustered into the 50th New York Infantry, which was converted to the 50th Regiment, New York Engineers on October 22, 1862. Snyder entered the military as a private, and received promotions to corporal (March 16, 1864), sergeant (October 1, 1864), and first lieutenant (February 28, 1865). His regiment was involved in numerous engagements in Virginia from 1862 until April 1865, including Fredericksburg and the Appomattox Campaign. He was mustered out with his company at Fort Berry, Virginia, on June 13, 1865. In 1866, he married teacher Hannah Wright, with whom he had corresponded throughout the war. They had two daughters and two sons. Over the course of his career, Snyder served as the principal of several schools in Newburgh, New York, and as vice president of the New York State Teachers' Association.

Acquisition Information:

1994. M-3087.1 .

Processing information:

Cataloging funded by the National Endowment for the Humanities (NEH) and the "We the People" project.

Arrangement:

The papers are arranged chronologically, with undated items and a photograph at the end.

Rules or Conventions:

Finding aid prepared using Describing Archives: A Content Standard (DACS)
Related
Additional Descriptive Data:

Related Materials

Related collections within the Clements include the Robert Sherry papers.

Bibliography

Nutt, J. J.Newburgh, her institutions, industries and leading citizens Historical, descriptive and biographical . Newburgh, N.Y.: Ritchie & Hull, 1898.

Roback, H. The veteran volunteers of Herkimer and Otsego counties in the war of the rebellion: being a history of the 152d N.Y.V. With scenes, incidents, etc., which occurred in the ranks, of the 34th N.Y., 97th N.Y., 121st N.Y., 2d N.Y. heavy artillery, and 1st and 2d N.Y. mounted rifles; also the active part performed by the boys in blue who were associated with the 152d N.Y.V. in Gen. Hancock's Second army corps during Grant's campaign. Utica, N.Y.: Press of L.C. Childs & son, 1892.
Subjects
Click on terms below to find any related finding aids on this site.
Subjects:

Schools--United States.
Thanksgiving Day.
United States--History--Civil War, 1861-1865.
United States--History--Civil War, 1861-1865--Causes.
United States--History--Civil War, 1861-1865--Religious aspects.

Formats:

Names:

State University of New York at Albany.
United States. Army of the Potomac.
United States. Army. New York Engineers Regiment, 50th (1861-1865)
United States. Army. New York Infantry Regiment, 97th (1862-1865)
Burnside, Ambrose Everett, 1824-1881.
Greeley, Horace, 1811-1872.
Hooker, Joseph, 1814-1879.
Jackson, Stonewall, 1824-1863.
McClellan, George Brinton, 1826-1885.
Snyder, Charles E., b. 1836.
Snyder, Hannah Wright.
Snyder, Lizzie, fl. 1863.
Snyder, Steve, fl. 1863.
Contents
Using These Materials
---
RESTRICTIONS:

The collection is open for research.

USE & PERMISSIONS:

Copyright status is unknown
PREFERRED CITATION:

Charles Snyder Papers, James S. Schoff Civil War Collection, William L. Clements Library, The University of Michigan