Back to top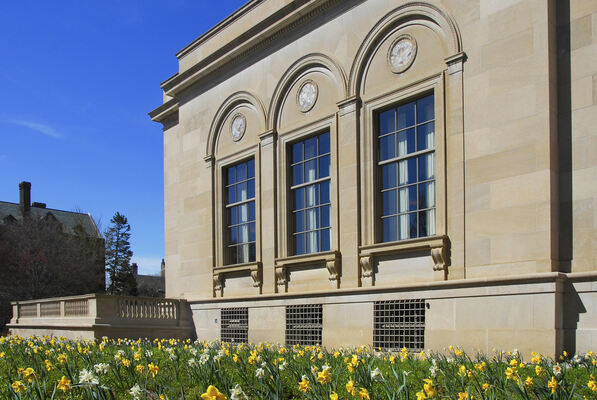 Address

:

909 South University Avenue

Ann Arbor, MI 48109, USA
Dey-Scott papers, 1821-1822
Using These Materials
---
Restrictions:

The collection is open for research.
Summary
Creator:

Abstract:

This collection contains courtship letters written from a young divinity student to his future wife. These letters show how a religious young man perceived of and expressed himself to the woman he loved, and are perhaps most interesting because of the resistance he faced from her parents.

Extent:

56 items

Language:

English

Authors:

Collection processed and finding aid created by P. M. C., July 1998
Background
Scope and Content:

Fifty-one of the collection's 56 letters are those Richard wrote to Lavinia during their courtship in 1821 and 1822, while the last letter in the collection is one he wrote to her about two weeks after their wedding. Two contain locks of hair. In addition, the collection contains four letters Lavinia received from her cousin Walter in 1822. These letters show how a religious young man perceived of and expressed himself to the woman he loved, and are most interesting because of the resistance he faced from her parents.

Richard filled his letters with expressions of love for his "ever dearest Lavinia" and his desire to be with her and be married. "Oh, my beloved Lavinia, how eagerly have my hopes anticipated the time when we should share every hope and wish together." (1821 Oct 2).

Lavinia's parents did not approve of their young daughter's suitor. In a letter dated December 19, 1821, Richard reported to Lavinia a conversation that occured between her father and Capt. James VanDyke, which allegedly outlined why Col. Scott opposed his daughter's swain:

"Your Father replied, that 'he could not mention any particular reasons for not allowing me to visit you, but that he had various grounds for believing that I had not in the least degree altered my former idle habits, and that he had understood that I had supped at Mr. Runyon's tavern on Friday evening last with a party of dissipated fellows.' -- which was utterly false, as I was engaged at the college with our society."

Richard added that Col. Scott said "he firmly believed that I was not in earnest in professing my regard to you, and that he was sure after he had conversed with you upon the subject that you would yield to his wishes."

He did not understand her parents' opposition to him and expressed his frustrations at being unable to see Lavinia. Richard encouraged her to trust in God and rely on the Lord's strength to get them through their difficulties. "Let me ask my dear girl to reflect on what I wrote you some weeks ago, and seriously resolve to approach with all your sorrows to your Father in heaven, -- to open your heart before him, -- to cast all your cares upon him -- and to repose yourself entirely on the will of him who constantly wills and does what is best for you..."

In addition to relying on the Lord, the couple relied on third parties to further their courtship. Many of the letters mention arrangements the couple made to see one another or send letters via sympathetic friends and relatives. Lavinia's aunt, in particular, was a great source of support to them and offered advice about how to win over the skeptical parents.

Adding to the couple's relationship woes was the illness and death of Lavinia's mother, who died on the 5th of December, 1821. Richard tenderly expressed his concerns about Lavinia's attending the funeral in a letter two days later:

"I have been unable to remove from my thoughts for a moment the distress which I anticipate you will endure tomorrow. -- I know well by bitter experience that it will be a trying day for you.- I dread the hour when I shall follow your dear Mother to her grave. -- It will not only awaken my sorrows for you, but it will recall all the distress I suffered when I took a last look of the coffin which contained the lifeless body of my own beloved Mother. -- Oh, my dear, dear Lavinia, my heart bleeds for you. -- I cannot tell you what have been my feelings for the last two days. -- I have at times thought that all my troubles were greater than I could bear, and I have wished that I had never lived to see this day of sorrow to you. -- If I could only be with you, and if we could mingle our tears together, and unite in prayer to the God of our mercies, I should be less miserable. -- But to be separated from all that I hold dear upon earth, and to hear that you are suffering so much distress, -- this is the grief which weighs me down and makes me almost weary of my life."

The last letter in the collection is the only one written after the couple's marriage, while Richard is visiting relatives and looking at job prospects. He sent Lavinia greetings from many people and continued his loving, rather paternalistic tone, reminding his wife to "remember your promise to me, my beloved Lavina, to offer up your daily petitions to the God of our mercies, and let nothing prevent the discharge of this duty."

Biographical / Historical:

Richard Varick Dey was a young divinity student from New York City, attending the Theological Seminary in New Brunswick, New Jersey, when he met Lavinia Agnes Scott. Dey was the son of prominent New York attorney Anthony Dey and Catharine Laidlie; Catherine's father, the Rev. Archibald Laidlie, was the first minister called to preach in English in the Dutch Church in New York City. Richard developed a reputation as a gifted orator, a skill shared by his grandfather.

Lavinia Agnes Scott, almost six years Richard's junior, lived in New Brunswick with her parents, Jane Griffiths and Colonel Joseph Warren Scott (1778-1871), an eminent New Jersey jurist and politician.

Richard and Lavinia became engaged on December 27, 1820. However, Lavinia's parents were opposed to Richard, and her father even asked Richard's theology professors at Rutgers, Philip Milledoler and John Henry Liningston, to try to discourage his pursuit of Lavinia. As a result, the couple spent much of their courtship trying to arrange for intermediaries to deliver their letters to one another or arrange opportunities to see one another. Eventually, their persistence (and love) won out, and they were married on September 11, 1822.

After graduating from the Seminary in 1822, Richard was licensed by the Congregationalists. The couple moved to Greenfield Hill, Conn., where he preached from 1822-1829. They relocated to New York City, and Richard preached at a number of churches there, as well as a brief stint at the Hugenot Church in Charleston, S.C. (1831-1832). He died in 1837, leaving his widow with four young children. Lavinia remained in New York, where she served as the manager of "The Society for the Relief of Poor Widows with Small Children" for over 25 years. She died in 1886.

Acquisition Information:

1994. M-3061.2

Rules or Conventions:

Finding aid prepared using Describing Archives: A Content Standard (DACS)
Related
Additional Descriptive Data:

Bibliography

The New York Genealogical and Biographical Record. Vol. 17 (pp.242-4) (July 1886, N.Y.)

Raven, John Howard.Biographical Record, Theological Seminary, New Brunswick, New Jersey, 1784-1934. (New Brunswick?, 1934).

Correspondents

Dey, Lavinia Agnes Scott, 1805-1886
Dey, Richard Varick, 1801-1837
_____, Walter (Lavinia's cousin)
Subjects
Click on terms below to find any related finding aids on this site.
Contents
Using These Materials
---
RESTRICTIONS:

The collection is open for research.

USE & PERMISSIONS:

No copyright restrictions.
PREFERRED CITATION:

Dey-Scott Papers, William L. Clements Library, The University of Michigan