Back to top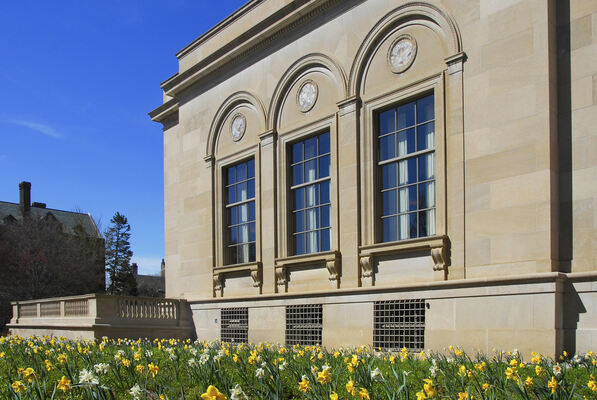 Address

:

909 South University Avenue

Ann Arbor, MI 48109, USA
Giles family papers, 1773-1899
Using These Materials
---
Restrictions:

The collection is open to research.
Summary
Creator:

Abstract:

The Giles family papers document an American family through various generations and locations, though the focus of the papers is on Elizabeth Shipton Giles of Maryland and New York City.

Extent:

0.5 linear feet

Language:

English

Authors:

Collection processed and finding aid created by Susan Swasta
Background
Scope and Content:

The Giles family papers document an American family through various generations and locations, though the focus of the papers is on Elizabeth Shipton Giles. Her 13 letters to Aquila and to sons Henry and George are literate and engaging, depicting a strong-willed woman who did not lose her spirit and sense of humor in the face of life's trials. Writing in 1780, as a flirtatious young woman enjoying the attentions of an army officer, she accuses her "pretty Major" of flirting with other women: "Upon my word tis a high joak, I should be very glad to know what right you have to dispose of your pretty Person in this manner? ... I'll not endeavor to soften any misfortunes you bring upon yourself so I give you fair warning."

It must have been difficult to descend from youthful romance into the harsh realities of a financially-pinched existence, enduring separation from family, the early deaths of most of her children, and estrangement from the two surviving daughters. But Eliza pinned her hopes on son George, reminding him in 1817 that "your life and mine hang on the same hinge..." and that his father, "tho' he provides for all your necessities, leaves me still the Guardian of your comforts and where will such true comforts be found as in an Honest Heart, and Virtuous Mind." She urges him to imitate his namesake, "the greatest man that ever lived," and become "an ornament to the World, an able Statesman and defender of your countrys Laws, and Rights." Fearing that George's temper may "blast my hopes in you or bring me in sorrow to the Grave," his mother begs him to learn restraint, and to look to God, so that he may seek her in heaven after she is separated from him, whom she regards as "heaven's last, best Gift" on this earth.

The nature of Eliza's relationships with other family members is not readily apparent, except in the case of daughter Elizabeth Thorne, who married well and evidently took pride in showing off, which her mother resented. In one instance the haughty Mrs. Thorne agitated to be given Mrs. Giles's most prized possession, a portrait of husband Aquila. Eliza described the dispute in an 1817 letter to son Henry, declaring that the painting had been her companion, never out of her sight, for 7000 miles of travel and four years of separation, "and I have often fancied I wiped tears from its eye." Her daughter, she felt, merely wanted to display it "over her fine sideboard." But Mrs. Thorne sent a servant to remove the painting the next day, and her mother vowed never to look at it again.

Eliza Giles did not live long enough to see son George married and successfully established, and her life was difficult until the end, but she never ceased to see better days ahead. Writing to George in 1820, two years before her death, she tells him not to worry about his parents, assuring him that "God willing I trust we shall live to see better days. The prospect dawns. So keep your spirits and health to meet the cheering ray."

The other correspondence in this collection is scattered. Two courtship notes from Aquila Giles to Eliza in 1780 exhibit youthful charm, while one letter to Eliza in 1815 and two to son George in 1819-1820 dwell on good intentions thwarted by bad debts. A series of letters to George and Elizabeth Giles in Europe from children and other family members, dating from 1838-1840, comment on the children's schooling and on family health and social matters. An interesting product of that trip is Elizabeth Giles's journal of their visit to Spain and France en route to Madeira, which features detailed description of buildings and art in Seville. Two 1823 New York City court depositions, evidently made to establish property claims of the surviving Giles children, reveal the sad fates of their siblings.

Biographical / Historical:

Aquila Giles was born into minor Maryland gentry in 1758, the son of Jacob and Joanna Paca Giles, grandson of Maryland governor William Paca. The Giles family of Devonshire, England, had come to America in 1634, and are on record as having obtained a land grant from Charles II in 1684.

Little is known about Giles' education or early years. At the outbreak of the American Revolution he joined the Continental Army as a volunteer cadet and by May 1777 had been promoted to major and was serving on the Pennsylvania line as aide-de-camp of Gen. Arthur St. Clair. At some point Major Giles was taken prisoner and evidently wound up on parole in New York City, during which time he courted English-born Elizabeth Shipton, marrying her in October 1780, just before his release. After the war they settled in Maryland, where Giles inherited an estate on the Susquehanna River in 1784 and bought a Baltimore town house in 1796. During this period he served as a U.S. Marshall and the couple had 10 children, 8 of whom survived infancy.

Sometime after 1800 Aquila and Eliza Giles relocated to New York City, and in the early 1800's he became involved in a controversy over lands which led to protracted litigation with the United States government. Financial hardship forced the family to split up, and wife Eliza returned to her native England around 1812, taking daughter Helen and youngest son George Washington Giles, born around 1802, with her. The separation lasted over four years, during which time sons William, Charles and St. Clair Giles became seamen, Henry Giles was admitted to West Point, and eldest daughters Elizabeth and Mary Ann married.

George Washington Giles attended the Hemel Hemsted school during his stay in England and was sent to boarding school and college after the return to America. There he attended Princeton University and Union College, become a lawyer, and married Elizabeth Ogden of New York City around 1823 or 1824. Details of their lives are very sketchy, but it is known that George Giles' health was poor, and he and Elizabeth lived in Madeira for a time in hopes of its restoration. Their son William Ogden Giles, probably born around 1825, established strong connections to Europe and the West Indies as a businessman.

Aquila and Eliza's daughter Elizabeth prospered as the wife of wealthy New Yorker Daniel Thorne, while Henry Giles enjoyed a minor military career, and Helen Giles remained in England and caused a mild family scandal by marrying "beneath her." The other children did not survive their parents. Although Aquila Giles won his law suit and the family was reunited, it is clear that his fortunes were never restored. By 1817 he was employed as a U.S. Army store keeper, but seemed always to be in debt and waiting for his luck to change. Aquila and Eliza Giles both died in 1822.

Acquisition Information:

1992. M-2893.2, M-6000 .

Processing information:

Cataloging partially funded by the National Endowment for the Humanities (NEH) and the "We the People" project.

Rules or Conventions:

Finding aid prepared using Describing Archives: A Content Standard (DACS)
Related
Additional Descriptive Data:

Bibliography

Heitman, Francis B. Historical Register and Dictionary of the United States Army. Vol. 1 (Washington, D.C., 1903)

United States. Bureau of Pensions. Pension application of Aquila Giles. 1818 Mar. 27

Partial Subject Index

Actions and defenses
Architecture, Islamic--Spain--Seville
Archives--Spain--Seville
Art, Spanish--Spain--Seville
Betrothal

ca.1780-2
ca.1780-3
ca.1780-4

Boarding schools--Curricula

1813 June
1813 Dec.
1814 June
1814 Dec.
1816 June

Boys--Conduct of life
Boys--Education

1812 April
1813 June
1813 Dec.
1814 June
1814 Dec.
1816 June
1817 Mar. 5
1817
1838 Nov. 23
1838 Dec. 20
1839 Feb. 9
1840 Mar. 2

Boys--Recreation
Brothers
Campagna, Girolomo, ca. 1550-1626
Cathedrals--Spain--Seville
Charity
Child rearing
Christmas
Country life--Maryland
Courtship

ca.1780-1
ca.1780-2
ca.1780-3
ca.1780-4
ca.1780-5
1818 Feb. 4
1900's

Cousins
Daughters--Death
Death
Debt

1784 Oct. 20
1818 Apr. 2
1820 Feb. 11

Depositions--New York (City)
Education
Education--Costs

1813 June
1813 Dec.
1814 June
1814 Dec.
1816 June

Faith
Family--Maryland

1815 Oct. 20
1817 Nov. 25
1819 May 15
1820 Feb. 17
1829 Mar.
1838 Nov. 23
1838 Dec.
1838 Dec. 20
ca.1838
1839 Jan. 9
1839 Jan. 19
1839 Feb. 9
1843 Apr. 7-19

Fathers and sons

1819 Nov. 17
1820 Feb. 11

Finance, Personal

1815 Oct. 20
1817 Mar. 5
1817 Nov. 25
1818 Apr. 2
1819 Nov. 17
1820 Feb. 11

France--Antiquities, Roman
France--Description and travel
Friendship
Gifts
Giles, Alexander Hamilton, 1791-1791
Giles, Aquila, 1758-1822

1799 May 7
ca. Jan. 1801
1900s

Giles, Aquila, 1758-1822--Portraits
Giles, Aquila Platt, 1790-1793
Giles, Charles Augustus, 1792-1823
Giles, Elizabeth Shipton, 1758-1822
Giles, George Washington, b. ca.1796
Giles family--Genealogy
Giles, Helen Thorold, b. ca.1793
Giles, Henry, b. 1795
Giles, Jacob Edward, ca.1784-1813
Giles, Mary Ann Baker, ca.1789-1815
Giles, St. Clair, ca.1787-1822
Giles, William Axtell, ca.1782-1813
Great Britain--Princes and princesses
Health
Hemel Hemsted School

1813 June
1813 Dec.
1814 June
1814 Dec.
1816 June

Husband and wife

ca. 1826 Aug. 19
1829 Mar.

Inheritance and succession

1818 Jan. 24
1820 Apr. 4
1830 Feb.
1832 Mar. 1

Kites
Knox family--Genealogy
Lodging-houses--New York (City)
Love letters

ca.1780-1
ca.1780-2
ca.1780-3
ca.1780-4
ca.1780-5

Marriage
Montagna, Bartolomeo, ca.1450-1523
Montpelier (France)--Description and travel
Mothers and daughters

1817 Jan. 31
1819 May 15
1820 Feb. 11
ca.1838
1839 Feb. 9
1840 Mar. 2

Mothers and sons

1812 April
1817 Mar. 5
1817 Apr. 8
1817 Dec. 14
1817
1818 Apr. 2
1819 Nov. 17
1820 Feb. 11
1820 Feb. 17

Mourning customs
Murillo, Bartolome Esteban, 1617-1682
Niagara Falls (N.Y.)
Parent and child

1838 Nov. 23
1838 Dec. 18
1838 Dec. 19
1839 Feb. 9

Pensions, Military--United States--Revolution, 1775-1783
Practical jokes
Pratt, Noah
Promissory notes
Quarreling
Real property--England
Real property--Maryland
Real property--New York (State)
Religion

1817 Dec. 14
1840 Mar. 2
1843 Apr. 7-19

Rochester Seminary--Songs and music
Schools--Great Britain

1813 June
1813 Dec.
1814 June
1814 Dec.
1816 June

Seamen
Seville. Alcazar
Seville (Spain)--Description and travel
Sexual ethics
Sick

ca. 1780
1820 Feb. 17
ca.1838
1839 Feb. 9

Sisters
Sons--Death
Spain--Antiquities, Roman
Spain--Description and travel
Temper
United States. Army--Promotions
United States--History--Revolution, 1775-1783--Claims
War
Washington, George, 1732-1799
Women in charitable work
Women--Conduct of life

ca. 1780
1812 Nov. 24
1823 Jan. 24
1839 Feb. 9

Young men--Conduct of life

1812 April
1817
1817 Mar. 5
1817 Dec. 14
1818 Feb. 4
1818 Apr. 2

Young men--Education
Young men--Health and hygiene
Young women--Health and hygiene
Subjects
Click on terms below to find any related finding aids on this site.
Contents
Using These Materials
---
RESTRICTIONS:

The collection is open to research.

USE & PERMISSIONS:

Copyright status is unknown.
PREFERRED CITATION:

Giles Family Papers, William L. Clements Library, University of Michigan