Back to top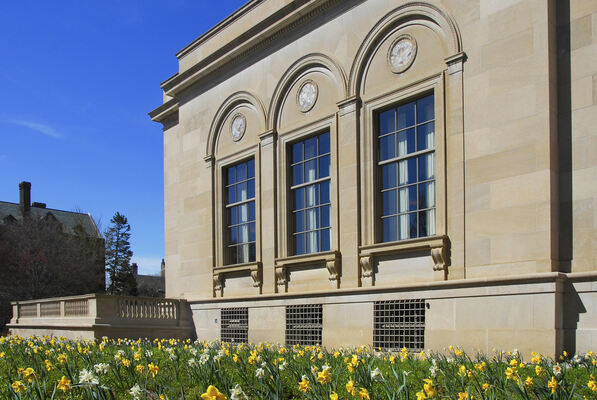 Address

:

909 South University Avenue

Ann Arbor, MI 48109, USA
Maria M. Churchill journals, 1845-1848
Using These Materials
---
Restrictions:

The collection is open for research.
Summary
Creator:

Abstract:

Maria M. Churchill's daily entries in her journal provide insights into the emotional and intellectual life of a middle-class woman in the mid-1800s.

Extent:

3 volumes

Language:

English

Authors:

Collection processed and finding aid created by Rob S. Cox, May 1993
Background
Scope and Content:

Maria Churchill wrote faithfully, nearly daily, in her diary throughout the three years represented, 1845 to 1848. Literate, intelligent, and capable, Maria retained an avid interest in the intellectual and social world beyond her small Vermont town. She was an avid reader of a wide array of books, periodicals, and newspapers, and was active in her community, attending lectures, meetings, and gala events, and discussing current events. Churchill's diary provides an interesting insight into a woman's view of the bonds of affection between husband and wife and parent and child. She considered herself lucky to have a husband who showed such strong interest in his wife and child, and the pleasure she took in assisting her husband in running their store is evident throughout. As important in Churchill's emotional life as her husband and child, however, were her connections with other women, friends as well as family members, and these bonds seem to have increased during her marriage, rather than decreased, maintained through constant visits and letters.

The diary covers a period of high drama in Churchill's life, beginning less than a year after her marriage, and including the birth of her daughter, Elizabeth, the protracted illness and death of her husband, and her entry into self-sustaining widowhood. She provides only the outlines of her daily activities -- few entries in themselves are of sufficient length to reveal much about her thoughts and motives -- however her habit of writing daily provides a density of coverage that makes the diary valuable for understanding the basic lineaments of her emotional and intellectual life, as well as her daily routine. Before the birth of her daughter, Churchill seems to have been careful to record her reading, her visits with friends and neighbors, her reactions to major political events (elections, the declaration of the War with Mexico, slavery), and the presence of lectures and classes in town. Beyond this, her adjustments to marriage, birth, illness, and death and her growing relationships with husband, child, and the community of women creates a complex view of the life of a middle class woman living in small town Vermont early in the Victorian era.

For the most part, diary entries become much briefer and more similar in content after about December, 1846 -- three months after her husband's death. Maria was occupied with running her business and caring for Elizabeth, and may have had somewhat less time for socializing outside of the singing school and church.

The diary is only selectively indexed, with no notice of the numerous entries that concern daily domestic tasks or social activities (visits, etc.).

Biographical / Historical:

When she began keeping a journal in July, 1845, Maria M. Churchill (b. January 21st, 1814) was living in Proctorsville, Vt., with her new husband, Edmond (ca.1817-1846). The couple led a comfortable middle-class existence, together managing a store retailing in various commodities. The Churchills participated regularly in local events, attending lectures, town and church meetings, and paying regular calls to neighbors, relatives and friends, sometimes as a couple, sometimes alone. Through these activities, Maria developed a strong supportive network of relationships with other women centered around church (Methodist, at least at times) and singing school, correspondence, and above all "visiting."

Making a concerted effort to polish her conversation skills, Maria also read widely in newspapers, magazines, and books to broaden her intellectual horizons. Her literary tastes included tracts on temperance, capital punishment, anti-slavery and moral reform, as well as "tales of passion, crime & death... full of pathos & passion" (1846 February 16), and helped to bolster her sense of the importance of women in American society. After reading "Love against wine drinking" in theTemperance Herald , Maria concluded that it "illustrated very forcibly, the evils of intemperance & the benefit, both pecuniary, & morally, arising from decision of character in a female, upon that momentous subject, proving again, the oft-repeated fact, that females govern the moral world, if not the physical" (1846 February 27). Though most of her reading fell into typically "women's" categories, she occasionally took an interest in politics and other "male" subjects, though always accepting the propriety of limits on women in public discourse. "I do not pretend to understand subjects connected with government, but very imperfectly;" she wrote, "& I would here say that I think females quite too neglectful of the important Science of Government. Not that I wish them to usurp that power properly belonging to man but I believe it is their duty, & privilege to read & inform themselves upon subjects so intimately connected with their well being & happiness. But for one, I must confess myself willfully ignorant, with any reasonable excuse" (1845 July 16).

Maria's life entered into a year of very dramatic change with the birth of a daughter, Elizabeth Kezia, on September 30th, 1845, surrounded by the women of Proctorsville. Thereafter, much of her diary becomes more tightly focused on recording her work caring for the child, as well as the usual round of washing, baking, knitting, quilting, sewing, ironing, reading and visiting. Ill health throughout the winter of 1845-46 curtailed her activities, but it was the illness of both Edmond and Elizabeth that created the greatest difficulties. It soon became clear that "Mr. C.'s" illness was much more serious than her teething daughter's, and by April, Edmond was confined to bed and a doctor called. As they had during her pregnancy, relatives, friends and neighbors played an important role in supporting and assisting Maria during the several months during which her husband lay ill. Her friends, Priscilla and Frank, for example, came down from Woodstock "laden with the good things of this world, such as a qr. of veal, a jug of milk, a can of cream, &c. &c... Mother sent them, of course" (1846 June 17).

Despite the best efforts of Maria and the family physician, none of the blisters, plasters and medicines provided more than temporary relief. Frustrated with Edmond's lack of progress, they considered dispensing altogether with medicines and depending instead on "diet & exercise in the open are as much as practicable" (1846 July 14), but when hot weather and a painfully swollen leg increased his agony, Maria began to despair. "My soul sinks within me when I look at his emaciated & diseased frame," she wrote, "& I feel that soon, very soon, he will be number'd with the unconscious tenants of the grave, & myself left a widow & Elizabeth and orphan" (1846 July 31). Edmond, according to the doctor, had contracted consumption. Still, on days when he felt less ill, Maria could muster a positive outlook. When he rallied during the first week of August and was able to sit up, she wrote that he "seemed much like himself..., told me while fanning him to save my strength until he needed it more. How thoughtful & perfectly characteristic of him. I think from his appearance the great struggle is over, in his mind & 'The bitterness of Death past'" (1846 August 6). She was mistaken. Only one week later Edmond began to suffer intensely and soon died.

Though never displaying a particularly deep religious faith, Maria attempted to accept her lot as a widow with an infant to care for with Christian resignation. "The future looks dark to me, but with God's grace helping me, I hope to overcome all rebellious feelings, (if I possess such) & humbly kiss the rod that smote" (1846 August 13). For several weeks, though, she found herself sinking into a deep depression that her religion could not dispel. "[D]esolation seems to brood hover [sic] over everything; still I can hardly realize that hence forward I am to make the journey of life alone & no more see my dear Edmond, or hear his voice on Earth, but 'tis even so, 'The Lord hath given, & hath taken, & blessed be his holy name, Tho he slay me, I love & trust him'" (1846 August 17). Even the presence of friends and neighbors, "ready to administer all the consolation in their power," failed to ease her loss: "the heart is sad, & the spirit faint, & the Earth wears a gloom unknown & unfelt by me before" (1846 August 21).

On September 13th, Maria was taken in as a boarder at G. Bond's, and shortly thereafter resumed working at the store, carrying out both her own domestic duties and the commercial duties that she had once shared with her husband. Understandably, her diary becomes sketchier at this point, filled with brief references to her endless work at home and the store, and with occasional reference to leisure activities, particularly with the singing school.

Acquisition Information:

1991. M-2759.1 .

Rules or Conventions:

Finding aid prepared using Describing Archives: A Content Standard (DACS)
Related
Additional Descriptive Data:

Partial Subject Index

Anniversaries

1845 September 25
1846 September 25

Bed-bugs
Birth
Birthdays
Books and reading

1845 July 3, 7, 13, 15, 16; August 4, 7, 24, 26, 31; September 2, 9; December 28
1846 January 25, 30; February 15, 17, 23, 27; March 1, 16

Calvinism
Care of the sick
Cherries
Child care

See also Mother and child
1846 February 13; March 23

Child, Lydia Maria Francis, 1802-1880
Circuses--Vermont
Clay, Cassius Marcellus, 1810-1903
Criminals
Crows as pets
Death

1845 September 30
1846 August 13-21, September 6, 25

Depression, Mental
Dogs
Dysentery

1846 August 30, September 1-6

Elections--Vermont
Fasts and feasts--Vermont
Fathers
Flowers
Fourth of July celebrations
Funeral rites and ceremonies--Vermont
Good and evil
Headaches
Husband and wife

1845 October 4, December 31

Husbands--Death

1846 August 13-21; September 25

Immigrants
Jackson, Andrew, 1767-1845--Death
Marriage
Mexico
Millennium
Mills and mill-work--Vermont
Mother and child

1845 October 12, 18, 25; November 4, 12; December 31
1846 February 13; March 23

Poverty
Religious toleration

1845 August 31, September 2

Science--Study and teaching

1845 July 7, 14; September 9

Separation of spheres
Sermons
Slavery

1845 July 16; August 4, 26

Slavery--Anti-slavery movements
Songs and music
Stores, Retail--Vermont
Storms--Vermont
Superstitions
Temperance

1846 January 1, 30; February 27

Texas--Annexation
Unitarian Church
United States--History--War with Mexico, 1845-1848
White slaves
Widows--Vermont

1846 August 13-21; September 25 inter alia

Women--Diaries
Women--Social and moral questions
Subjects
Click on terms below to find any related finding aids on this site.
Contents
Using These Materials
---
RESTRICTIONS:

The collection is open for research.

USE & PERMISSIONS:

No copyright restrictions.
PREFERRED CITATION:

Maria M. Churchill Journals, William L. Clements Library, The University of Michigan