Back to top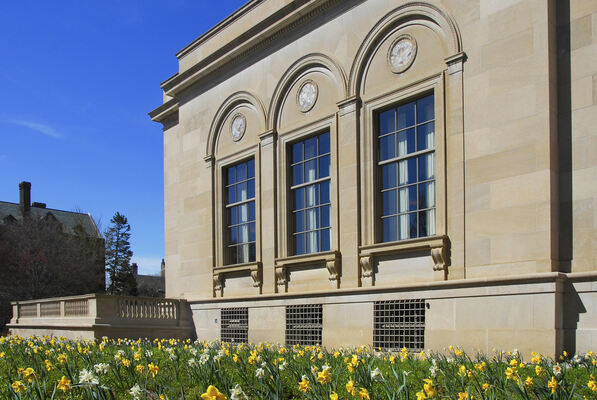 Address

:

909 South University Avenue

Ann Arbor, MI 48109, USA
Tracy family papers, 1815-1903 (majority within 1815-1893)
Using These Materials
---
Restrictions:

The collection is open for research.
Summary
Creator:

Abstract:

The Tracy family papers consist of letters written by members of a large family from Norwich, Connecticut while living away from home, including two letters from a missionary in India.

Extent:

34 items

Language:

English

Authors:

Collection processed and finding aid created by Rachel K. Onuf
Background
Scope and Content:

This collection is somewhat of a hodgepodge; a few curious lives come to light, but there are not enough letters to entirely flesh out the various writers, or connect the lives of what must have been a large, tight-knit family group. There are 4 letters written by Charles, shortly before his death, 6 letters from William, while he was in Philadelphia, 2 excellent letters from his wife Emily, written from India, 5 written by George, who went down to Mobile, 5 other family letters, 4 letters written by friends, including a female schoolteacher, and 8 letters written much later to Louise and Antoinette Tracy, who were trying to gather genealogical material.

The two most fascinating letters are from Emily, who described the Indians and their ways, as well as the missionary work that brought the Tracys to Southern India. Predictably, she was rather negative about the people she was there to convert. The combination of what she viewed as laziness and lying left her with little respect for the Indians. "I know of nothing in America, which is so universal, as falsehood is among this people, they have a proverb, 'that where the mouth opens a lie comes out,' and this seems to be litterally the case," she fulminated (1838 November 16).

After overpaying a couple times, she pronounced that "their great aim is to get all the money they can, and do as little as possible in return." To Emily, itinerant beggars were the embodiment of this aim, so distasteful to her Protestant work ethic: "You would be surprised to know what a quantity of persons there are in this country, whose business it is to go from village to village begging . . . some time ago one of these beggars came to me, and I said I cannot give you anything, you are a strong stout man, if you will do this work, I will pay you for it but I cannot encourage any body in idleness, who is able to work as you are, said he, 'it is not my custom to work, I am a beggar,' well then, said I, you can go, it is not my custom to support people who can work, but who are too lazy to do so."

Rats and mosquitoes disrupted their sleep, but an even greater trial of missionary life was the difficulty of remaining connected to the loved ones back in America. Writing to the Tracys, Emily asked if they knew why she had not heard from her own parents. After writing thirty letters and receiving no response, she had stopped writing, but not worrying (1839 February 13).

Emily's main preoccupation, however, remained the Tamil people, and she lamented, "Oh how easily are this people led captive by Satan at his will." Witnessing people unselfconsciously bathing in public, and married women performing a fertility ceremony "in the presence of multitudes of people without the least thought that their was any indelicacy in it" seemed to intensify her desire to "guide them to the Lamb of God, who taketh away the sins of the world."

While she was talking to some "deluded pagans" after they had completed their ceremonies, Emily was asked, "Where did you, a woman, get so much wisdom'"? She was struck that "this people seem not to get the idea, that a woman could know how to do anything else beside cook rice, carry burdens, and gather cow dung for fuel." Emily thought some of the women she spoke to were bright, and "looked as though they might have made smart intelligent women had they been properly educated, whereas now they seem scarcely to have a thought above their food and dress. O when will the time come when the blindness be taken from their eyes"?

Norwich was the home base of the Tracy family, and several of the daughters seem to have never left it, or each other. They probably all worked to earn their keep. William wrote to his sister Mary Ann, "I am glad to hear you have steady work some where or other as father will not have to work so hard as he did before you knew the trade" (1821 June 24). The sons, on the other hand, moved to other places to make a living, either because they wanted to see the world, or there was no future for them in Norwich. This collection of letters written to the women back home documents the men's struggles to get accustomed to being apart from those they were supposed to support, and be supported by. A New Year's greeting filled with religious exhortations is the only "out going" letter from Norwich, written by Susan to her brother Charles (1815 December 31). This intimates that the sisters provided their wandering brothers with religious and moral guidance, as well as keeping them apprised of local news.

Maintaining long-distance familial support was a challenge. Writing after Charles' death, David eloquently reassured his mother, "I feel the only legacy he has left writ deeply on my heart, to comfort and be all to you which we both might have been" (1818 May 1). He was relieved that his mother had visited Charles just before he died, and noted that he had "some of the dear boys hair which I mean to have set in something for my sisters." William told his sister Elizabeth why it was better that they did not live together: "I should like to see you, and be with you, but if we were always together, we should lose much of that pleasure which we feel at meeting after a long seperation, and when duty calls us apart we should yield to her voice with contentment" (1825 June 13). At the same time, he asked her to write to him more frequently, even if he had not responded, for "there are many of you, while I am alone," indicating his need for frequent contact with his family.

George had less time to spend thinking about the folks back home: "I have not been able to think of much except cotton -- it has been cotton from before day break, untill late in the evening. Some times it is eleven o'clock before I can leave the office. I have some times thought that there was more cotton in my head than there was in all the cotton factories in New England" (1831 May 29). Although he was unsure if he wanted to stay in Mobile and keep working in the cotton trade, he was still there a few years later -- but still talking of moving on: "My future exertions in business may be differently directed, but as I am not yet determined that it will, or if it is, in what way, I do not speak of it" (1834 March 10).

Lucinda, a properly educated female native of Norwich, did leave her home in order to make her living. Unlike the men, who stressed the flexibility of their business plans -- George in particular -- Lucinda felt trapped in her position. She wrote to Sarah, "I thought if I should leave my school it would be uncertain when or where I could collect one again. This is the way in which I expect to gain my support & it is best for me to keep with my business. Don't you think so?" (1832 April 14). She rhapsodized about the haunts of her childhood home in a rather morose fashion, and blamed her melancholy on being spurned by a friend, whose desertion had left her quite alone with her pupils.

Biographical / Historical:

David and Susan Tracy raised many children in Norwich, Connecticut. It is likely that David was a descendant of Thomas Tracy, one of the original proprietors of Norwich. In 1820, David was involved in the reorganization of the Universalist church of the town into the "Society of United Christian Friends in the towns of Norwich, Preston, & Groton."

Two of the older sons, David Jr. and Charles, moved to New York, where David spent a few years as a shoemaker. Charles helped him in his business until he got sick and died in April 1818. Son George went to Mobile, Alabama, where he worked for M. D. Eslava as a cotton broker. He did well enough to be in a position to offer his "brother" Henry Allen $500 in 1834, to compensate for "the depression of business generally" in the north (1834 March 10).

The Tracy's son William went to Philadelphia, where he went to school and then began to teach Sunday School. He also worked as a solderer in a Mr. Taylor's shop. In the 1820s heard a couple lectures given by Mr. Ward, "the India Missionary" (1821 March 4). What he heard must have stayed with him, for in 1836, William and his wife Emily moved to the Madura Mission in India, which had been established by the American Board of Commissioners for Foreign Missions in 1834. They worked at the Tirupuvanum station, and by 1845, William was in charge of the small seminary. A young daughter, Susan Maria, died while they were there. In 1851, the Tracys returned for a visit to the United States, after residing in India for more than 13 years. The Board's annual report for 1851 states, "The health of both is considerably impaired, but it is hoped they will be able to return to their field of labor with renewed strength," intimating that the couple at least intended to return to India (p.104).

David and Susan's sons may have traveled far and wide, but their daughters -- Susan, Philena, Mary Ann, Sarah, and Elizabeth -- stayed put. In 1861, Susan, Elizabeth and Mary Ann were still living together in Norwich.

Acquisition Information:

1991. M-2662a23 .

Rules or Conventions:

Finding aid prepared using Describing Archives: A Content Standard (DACS)
Related
Additional Descriptive Data:

Bibliography

Annual Report of the American Board of Commissioners for Foreign Missions. (Boston, 1839-1856).

Longworth's American Almanac, New York Register & City Directory. (New York, 1816-1819).

Stedman, John W. Stedman's Directory of the City and Town of Norwich. (Norwich, Conn., 1861).

Wilder, Harriet. A Century in the Madura Mission, South India, 1834-1934. (New York, 1961).

Partial Subject Index

American Board of Commissioners for Foreign Missions

1838 November 16
1839 February 13

Cotton

1831 May 29
1834 March 10

Death

1818 May 1
1818 May 3
1838 November 16
1839 February 13

Edgerton Family
Fires

1816 April 7
1821 March 4

Influenza
Madurai (India)--Social life and customs

1838 November 16
1839 February 13

Missionaries--India

1838 November 16
1839 February 13
1845 October 2

Missions--India--Madurai

1838 November 16
1839 February 13

Painting--Appreciation
Religious education of children

1821 March 4
1821 June 24
1821 December 30
1825 March 14

Tract societies--Pennsylvania
Tracy Family
Ward, William, 1769-1823
Women missionaries--India

1838 November 16
1839 February 13

Women teachers
Subjects
Click on terms below to find any related finding aids on this site.
Subjects:

Names:

[Abbole?], C. H.
Allen, Henry
Bradley, C.C.C.
Bridgman, George M.
Brown, James W.
Edgerton, Abby S.
Grant, Frank
Lucinda
Martin, John
Post, [I. B.?]
Tracy, Antoinette C.
Tracy, Charles
Tracy, David
Tracy, David Jr.
Tracy, Edwin A.
Tracy, Elizabeth
Tracy, Emily F.
Tracy, George
Tracy, Louise
Tracy, Mary Ann
Tracy, Philena
Tracy, Sarah
Tracy, Susan (or Susanna)
Tracy, William
Tracy, William J.

Places:
Contents
Using These Materials
---
RESTRICTIONS:

The collection is open for research.

USE & PERMISSIONS:

Copyright status is unknown.
PREFERRED CITATION:

Tracy Family Papers, William L. Clements Library, The University of Michigan