Back to top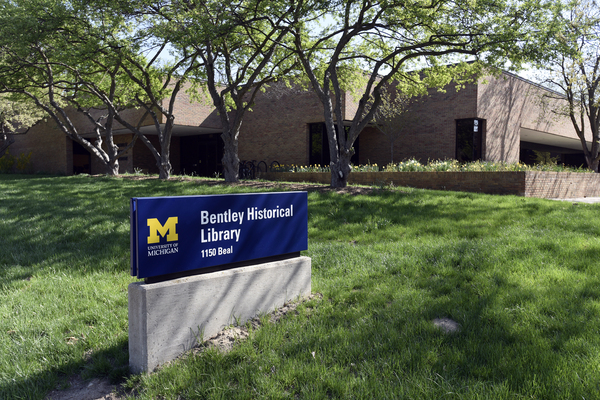 Address

:

1150 Beal Avenue

Ann Arbor, MI 48109-2113, USA
Media Resources Center (University of Michigan) records, 1948-1987, 1948-1987
Using These Materials
---
Restrictions:

The records are open to research. Special arrangements must be made to view or duplicate some films and videotapes.
Summary
Creator:

Abstract:

The television production studio and media services unit of the University of Michigan, commonly referred to as "Michigan Media." It was formed in 1978 through the merger of the university Television Center and the university Audio-Visual Education Center. The Television Center began producing educational programs for broadcast on commercial and public stations in 1950. The Audio-Visual Education Center produced films for the university and operated a film distribution library. The Media Resources Center closed in 1986. The record group consists of administrative records including Broadcasting Committee minutes, annual reports, unit review material, correspondence, and budget material; scripts for television programs and films; press releases; telecourse outlines and study guides; and brochures and catalogs; also photographs; and films.

Extent:

35 linear feet
2500 items

Language:

English

Call Number:

851831 Bimu C473 2

Authors:

Finding aid created by Greg Kinney, 1990 (with assistance of Doris Attaway)
Background
Scope and Content:

The records of the University of Michigan Media Resources Center document the production of educational television programs and films at the University of Michigan, 1950-1988. The collection includes administrative records, scripts, press releases and program summaries, photographs, and films and videotapes. This finding aid describes in detail the paper and photograph portion of the collection and briefly describes the film and videotape. A companion finding aid entitled "University of Michigan. Michigan Media. Program Descriptions" provides detailed descriptions of the films and videotapes in the collection. The Program Description finding aid is stored at the reference desk in the reading room of the Bentley Historical Library.

Biographical / Historical:

The Media Resources Center, commonly referred to as "Michigan Media," served as the University of Michigan's television studio and media services unit. Michigan Media was created in 1978 through the merger of the university Television Center and the university Audio-Visual Education Center. The University of Michigan Television Center (TVC), founded in 1950, produced television programs for broadcast on commercial and educational television stations. Although it never operated its own on-the-air television station, the TVC developed a unique "network" by distributing film and videotape of programs for broadcast by local stations across the country.

The Audio-Visual Education Center (AVEC) was formed out of the university Extension Division's Visual Education Bureau. Originally it was primarily a film distribution unit, providing instructional films to the state's elementary and secondary schools and a variety of adult organizations. As the Visual Education Bureau's activities began to center more on serving the university campus, an autonomous Audio-Visual Education Center was created. The AVEC produced and distributed instructional films as well as promotional films for the university. It also produced films on a contract basis for non-university clients.

Michigan Media also provided closed-circuit and other television services for the university, produced films about the university, collected archival film footage of university events, and provided consultation, maintenance and technical support services for media projects in other university units. In addition to television production, Michigan Media was responsible for the AVEC film distribution library and for increased special project film production. Michigan Media was disbanded in 1987 after a unit review and its functions were eliminated or distributed to other university units.

The University of Michigan Television Center and, later, Michigan Media were widely recognized as pioneers in the development of educational television programming. Along with Johns Hopkins, Michigan was one of the first universities to produce educational programs. The TVC developed the concepts of the "telecourse" and the "trigger film." Over the years, Television Center and Michigan Media productions won numerous awards from professional organizations and film festivals.

The Television Center's first facilities were located in the Speech Department offices in Angell Hall. In 1951/52 the TVC occupied rooms in South Quad and set up a temporary closed-circuit studio in an Angell Hall classroom. The TVC's first working studio was established in the former Dolph Funeral Home building at 310 Maynard Street in Ann Arbor in January 1954. The studio and offices were moved to the Argus Building on West 4th Street in Ann Arbor in 1978.

The university's first experience with television production involved the broadcast of student dramas on WWJ-TV, Detroit on an irregularly scheduled program entitled "On Camera." The plays, written and acted by UM students and directed by faculty, were rehearsed on campus. Actors and sets were then taken to WWJ's studios for the live broadcast. Nine plays were televised between 1948 and 1953. Several UM faculty members had also participated in the WWJ produced series "University of the Air."

In the summer of 1950 officials of WWJ proposed to UM president Alexander Ruthven and a group of faculty that the university participate in production of a series of television programs to be called "The University of Michigan Hour." The station guaranteed the university one hour of air time each week on Sunday afternoon and proposed to pay participating faculty members. The station attached two conditions to the offer: that some form of college credit be awarded and that a tuition fee be charged to each registered viewer.

A special university committee considered and accepted WWJ's proposal in September 1950. Garnet Garrison was appointed to the newly created post of Director of Television. Garrison had received a master's degree in speech from UM and then worked in New York for NBC radio. He also taught radio announcing at Columbia University. In 1947 Garrison had accepted a position in the UM Department of Speech. He would be the guiding spirit of University of Michigan television for more than twenty years.

Production of UM Television Hour programs began in 1950. The first program aired November 5, 1950. In accord with WWJ's wishes, the one hour of air time was divided into three twenty minute segments: a liberal arts program running for fourteen weeks, a practical living program to run seven weeks, and a weekly "showcase for the university." The term "telecourse" was coined to describe the programs of the first two segments. Each of the telecourses was to feature a UM faculty member and was to be aimed at an adult audience. It was decided not to offer regular university credits for the telecourses but rather to provide each registering viewer with a certificate of participation. A minimal registration fee was charged and each registrant was provided a course outline and other supplementary material.

The third segment of Television Hour was named the "Teletour." It was designed to be a "weekly invitation to the people of Michigan to visit one of the many institutions of the university." The teletours were usually broadcast from the WWJ studios with a faculty or staff member using a variety of props and visual aids to describe some university institution or activity. Approximately once a month the WWJ remote truck came to Ann Arbor and the teletour was broadcast live from campus.

The telecourse programs were written by the participating professors and TVC staff. Rehearsals were conducted in the TVC facilities in Angell Hall. On Sunday morning, stars, staff, and props were transported to Detroit for the live broadcast from WWJ's studio. Because the telecourses were done live without recording equipment, no film record of the original telecourses exists. Later, several telecourses were redone and recorded on kinescope film.

Other commercial stations soon expressed an interest in broadcasting UM programs. In September 1951 stations WJIM in Lansing and WKZO in Kalamazoo began simultaneous broadcast of the live WWJ programs via a microwave relay hookup.

Station WOOD approached the Television Center with a proposal to begin broadcasting a second series of live programs from its studio in Grand Rapids. The station offered to provide one half-hour of air time on Saturday afternoon but insisted that the series consist of original productions, not rebroadcasts of WWJ programs. WOOD wanted individual programs of general interest that were not part of a "telecourse." The TVC and WOOD agreed on a format and began broadcasting a series of independent programs under the title "Understanding Our World" in March 1952. These programs were developed and rehearsed at the UM campus and then broadcast live from WOOD studios.

A third request for TVC programming came in 1953 from WPAG, the UHF station in Ann Arbor. The station requested two and three quarters hours of non-commercial programming each week. An arrangement was reached whereby the TVC provided studio facilities, equipment, and technical assistance and the UM Speech Department provided programming and student staff as part of its television production courses. The WPAG programming was intended to serve as an on the air laboratory for speech students interested in television production. Several series were broadcast including community and university news, interviews with local and university personalities, and programs aimed at elementary school children. Approximately 340 programs were broadcast from October 1953 to the spring of 1957 when WPAG went off the air. Only a few of these programs were recorded on film.

The format of the UM Television Hour was modified in the fall of 1952. The telecourse portions of the TV Hour were expanded to one half-hour each. The Teletour segment was moved to a new time slot at 5:45 Saturday evening. This program, now 15 minutes long, was renamed "Michigan Reports" (Series H). Beginning in the fall of 1955 the name was changed again to "Accent: Michigan Report." It was broadcast under that name through 1961 when the program was discontinued. Throughout, the series served as a public relations program for the university, showing the public the variety of activities taking place at the University of Michigan.

The telecourse programs were discontinued in April 1954. Declining numbers of registrants was one factor prompting the abandonment of TV programs for which certificates of participation were issued. Other universities had begun to offer television courses for full college credit under the term telecourse. Michigan did not wish to be associated with these for-credit courses and therefore stopped issuing certificates of participation and dropped the use of the designation telecourse.

Thereafter the Television Hour consisted of two half-hour programs of general interest. The first was a series of multi-part programs of from five to thirty segments. The programs generally featured university faculty discussing and presenting material on topics such as medicine and health, national and international affairs, science, history, and other academic subjects. Some 130 different programs were broadcast between 1954 and 1980.

The second portion of the TV hour was given over to the "Understanding Our World" series (Series B) originally created for station WOOD. Though there were several multi-part programs, the series generally consisted of self-contained programs. The programs often featured UM faculty but also included local, national, and even international personalities. The format of the programs included interviews, panel discussions, demonstrations, and documentaries. Over 800 individual programs were broadcast between 1954 and 1980 covering a wide variety of subjects.

The TVC developed a unique network through which UM programs were broadcast over commercial and public stations across the country. The first UM television network was the "live" hook-up of stations WJIM and WKZO to carry the programs broadcast from the WWJ-TV studios. Completion of the Maynard Street facilities on the UM campus and purchase of a kinescope camera allowed the TVC to produce and record programs in its own studio. The kinescope process recorded the "live" television signal on 16 millimeter film. Copies of the film were made and distributed through the mail to local television stations for broadcast at a time of their choosing. A two-inch videotape recording machine was acquired in 1963, permitting distribution of TVC programs in both film and videotape formats.

By the mid-1960s more than 120 television stations had broadcast TVC programs. Stations joined and left the network at various times but distribution of UM programs remained high until the mid-1970s. By that time the development of the public television system and declining demand for educational programming from commercial stations combined to weaken the market for TVC programming.

The TVC was also involved in special project programming and non-broadcast film production as well as in providing media services to other campus units. Significant special projects included re-creating and recording several telecourses for the Educational Television and Radio Center (ETRC), production of programs for the Midwest Project for Airborne Television Instruction (MPATI) and the Medical Television project.

The ETRC, a Ford Foundation sponsored center to promote development of television as an educational medium, provided funding for the TVC to re-create and record on kinescope film three of the telecourse programs and to develop several new programs. ETRC then distributed the kinescopes to educational television stations throughout the country. The TVC videotaped approximately 100 programs for MPATI, a Purdue University-based project that broadcast educational programming over a six-state area via an aircraft with on-board video broadcasting capabilities. Among TVC productions for MPATI were a 64-part series on American literary history titled "From Franklin to Frost," intended for use in high schools, and an elementary Spanish course.

The TVC cooperated with the Medical School to develop the capacity for closed-circuit broadcasting and recording of surgical and diagnostic procedures for use in Medical School courses. Similar projects were undertaken for the Law School, Zoology Department, and other university units. The TVC also produced public relations films for the university and a variety of instructional films not intended for broadcast use.

An innovative concept developed by Michigan Media was the "trigger film." These were short, open-ended dramatic vignettes designed to illustrate some problem or conflict situation and to promote discussion among the viewers. Trigger films were produced on a variety of topics including teenage driving, drug abuse, aging, and dormitory living. The trigger films were recognized with an Osella award from the 1969 Venice International Film Festival.

In 1959 the TVC began to compile what it called a "university film archives." The TVC filmed many university events including awards ceremonies, building groundbreakings and dedications, retirement banquets, graduations, athletic events and marching band performances, homecoming and other social activities, student protests, visits by dignitaries, and general footage of campus buildings and scenes. This archival film was intended in part to provide stock footage for television and film production, but was also a conscious effort to document the university through film.

When the TVC was founded in 1950 it was placed under the administrative control of the director of University Relations. A Broadcasting Committee oversaw the activities of the TVC. The TVC was headed by a director of Broadcasting, a position held by Garnet R. Garrison from 1950 to 1958. In 1958 the director's responsibilities were expanded to include management of the university radio service. Hazen Schumacher was then placed in charge of television operations as associate director of Television. Schumacher became director of Broadcasting upon Garrison's retirement in 1973.

A major reorganization of media services occurred in 1978. The Television Center was merged with the Audio-Visual Education Center to form the University of Michigan Media Resources Center, commonly referred to as Michigan Media. The AVEC developed out of the broadcasting service of the university Extension Service. It had produced filmstrips, audiotapes, and films for use both within and outside the university. Some AVEC films were made for broadcast but most were intended for use by schools, community groups, and other organizations. AVEC had also developed a large film lending library to serve the university, schools, and community organizations.

Michigan Media provided a variety of media services for the university ranging from film production to consulting, engineering services, equipment service and repair, film and tape duplication, and classroom instruction. For a short time it was also the university computer repair service.

In the early 1980s the original television production was scaled back considerably as the demand for educational programming was increasingly met by educational television stations and commercial production companies. Michigan Media also experienced a significant downsizing imposed during the university's fiscal crisis of the early 1980s.

Michigan Media underwent a university review in 1986. The review panel recommended that MM be retained but that its structure and function be significantly modified. Ultimately, however, it was decided that Michigan Media should be disbanded and its functions eliminated or distributed to other units. The television studio and other media production facilities and staff were divided between the College of Literature, Science and the Arts and the Center for Research on Learning and Teaching. The film and video library was placed under the management of the Undergraduate Library. Michigan Media formally ceased to exist on June 30, 1988.

Some Michigan Media scripts and other paper records had been transferred to the Bentley Library between 1968 and 1978. The remainder of the Michigan Media records were transferred to the Bentley in 1988.

Acquisition Information:

The records were acquired from Michigan Media in several accessions [Donor # 4408. ]. Scripts were transferred periodically, 1966-1978. Additional scripts, administrative records, and films and videotapes were transferred in July 1988 through Jo Wenk and George Williams.

Arrangement:

Summary Contents List

Administrative Records, 1950-1988 (Box 1-4, 27)
Scripts

UM Television Hour (Telecourses) (Box 5)
Series I (Box 6-15)
Series B (Understanding Our World) (Box 16-19)
Series H, 1952-1959 (Box 20)
Series A (Accent) (Box 20)
Special Projects (Box 21-22)
Trigger Films (Box 22)
Early Television Plays (Box 22)
WPAG TV (Box 24-25)
Audio-Visual Education Center (AVEC) (Box 26)

Brochures and Catalogs, ca.1951-1984 (Box 22)
Press Releases (Box 22-23)
Study Guides/Course Syllabi (Box 24)
Newspaper Clippings, 1951-1988 (Box 27-28)
Music Releases (Box 29)
Photographic Prints and Negatives (Box 30-35)

Physical Location:

Portions located in offsite storage; prior notification required for access.
Related
Other Finding Aids:

Detailed listing of the television programs, film and videotapes can be found in separate "Finding Aid for Media Resources Center (University of Michigan) Films and Videotex"
Contents
Using These Materials
---
RESTRICTIONS:

The records are open to research. Special arrangements must be made to view or duplicate some films and videotapes.

USE & PERMISSIONS:

Copyright for films and videotapes is held by the University of Michigan unless otherwise noted in the finding aid. The collection may contain third-party materials for which copyright is not held. Patrons are responsible for determining the appropriate use or reuse of materials.
PREFERRED CITATION:

[item], folder, box, Media Resources Center (University of Michigan) Records, Bentley Historical Library, University of Michigan